David Oliver Creasey
I used to have a Blog on this Website and as I was trawling through the archives to find the date of a post called, "Going anywhere nice this year" with the subtitle "The wisdom of hairdressers!!!...", when I came across this:
Clients 17|6|2001» Oliver Creasey...(where are you now)
¶ He once said to me, "Butchers have customers, we have Clients"... He also said, "Keep away from her, she'll puke all over you - She's pissed".
And I thought, yeah Ollie, where are you now? I search Google for: Oliver Creasey and I find a wonderful picture of Ollie relaxing in 1974 (a time when I knew him well, it's an evocative image for me).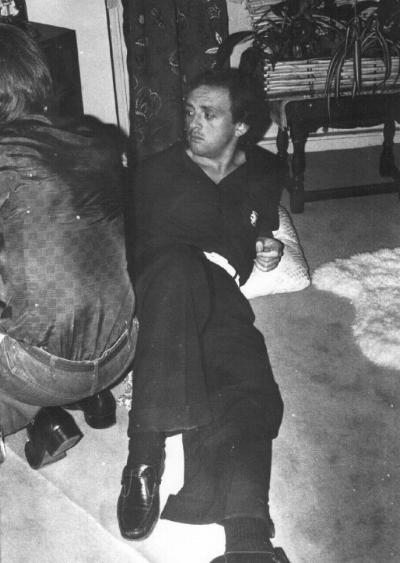 Vidal Sassoon Gallery presented by John Santilli
Thanx 4 a gr8 gallery John
However, sorrow of sorrows, shock of shocks and heart-bursting sadness, I learn today (10 July 2010) that David Oliver Creasey died of a heart attack late Tuesday evening 15 January 2008 at his home in San Francisco. He was just 59. Oh my God.
I continued with my search for more information and I'm now able to put together and offer you, my very potted and personal biography:


Firstly there is the name issue, I'd forgotten that his Christian name was David! I never knew his middle name was John! The reason Oliver was his professional name is most probably because there was already a David working at Vidal Sassoon's when he started - typical! I've only ever known him as Oliver or Ollie - which is what I called him.
He was born in Derbyshire, England in 1950. His father was a hairdresser and thus, when Oliver left school at 15 he started his training with him. At the age of 19 (like me) he seized the opportunity to go to London and begin his hairdressing career with Vidal Sassoon, his days at 44 Sloane Street with Maurice Tidy, Christopher Brooker and Ricci Burns were life changing and very happy.
In the mid 60's Ricci Burns broke-away from Sasson's to set himself up in business at 151 Kings Road, Chelsea (it's now a night club called 151), taking with him, Ivana (Ricci's artistic director/ top stylist), Oliver (who managed Kings Road when Ricci opened up in 'Marrakesh' and George Street) and Trevor Richardson (I think! Now of Trevor Anthony) - there may have been others but I can't think who. When Ivana left Ricci's (to open up her own salon) just after I arrived early in 1973, appointed by Ricci and Oliver, Trevor became the new artistic director much to the chagrin of Robert Lobetta, to whom I was Junior.
1973 was a blur for me. I was working 70 hours per week and travelling about 30 hours per week, WOW! Oliver was my vital support, comfort and friend. And he made my life more stressful and intense by sending me out on photographic sessions and fashion shows when I was still just a humble Junior, and for that I am eternally grateful because his confidence in me gave Me confidence and strength. He took me to Bally (Kings Road) and bought me my first pair of moccasins, because he didn't like my heavy brown brogues? Madman! Early in 1974 after only ten months of training, Oliver put me on the floor and made me a Stylist - double WOW - < that's where Oliver changed my life.
Ricci would waft in from George Street twice a week (Monday & Wednesday) to see his Chelsea clients - Mick and Bianca Jagger, Marianne Faithfull, Fenella Fielding and Nicky Samuels were all popular, but there were many others! And when Ricci was absent, Oliver was happy to re-allocate Ricci's celebrity clients to the rest of us - I'd do my best to steal them from him.
Oliver rarely went out on photo shoots, opting to send out Trevor, Robert or myself. I did work on one session with Oliver, a Zandra Rhodes fashion show for Adel Rootstein's Summer Ball. After the show Ricci (who was invited to the Ball and who brought along the tall black model Iman) took Oliver and myself to Tramp night club on Jermyn Street, where I sat at the bar for a couple of hours drinking with George Best (as a guest, I wasn't allowed to pay!!!), until I was unceremoniously dragged out by Oliver and taken by taxi to his bijou house in Parsons Green, where I kipped down on the sofa. Happy days.
Wella International Hair Care sent us some tickets for the British Formula Atlantic Grand Prix at Brands Hatch on Sunday 18 May 1975, Judith Jackson (motoring editor of the Sunday Times and very good friend of Oliver) upgraded the tickets slightly and Oliver (Petrolhead) invited me. Yes Please. He picked me up from Waterloo Stn. and we drove down in his 1969 lagoon blue Lotus Elan Plus 2S. Nice. On the way down we talked about work, things were not going too well and morale was low - one reason: Ricci had planned to open a salon in Beverly Hills, California, Oliver and Trevor had been out to see it and I'd been asked if I'd like to work there. Yes Please. But it came to naught, Ricci didn't open in the United States - I was pissed-off! Oliver said in an uncharacteristically open manner, "as soon as the time's right, I'm outa there and off to the States. It's where the money is". Me Too I said, but I never went! Ted Wentz in the Lola for Wella International Hair Care came in second!
I was looking through my photo's, partly to jog my memory and partly to find one that would resonate with Oliver, and I couldn't find one. Then I came across this photo of Nicky Samuels (by Norman Parkinson 1972 British Vogue):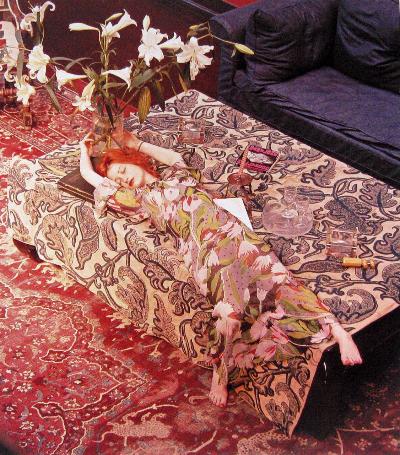 Nicky Samuels by Norman Parkinson 1972
Even though the photograph was taken just before my time at Ricci's, Oliver and I knew it, we'd even both stood on the very spot the photo was taken (at the top of the stairs in Nicky's home). And I realise that this photograph encapsulates and represents all my feelings and memories of My time at Ricci Burns, the heady, musky perfume of the lilies is still with me. I'm sure Oliver would not agree.
There have been lots of people who have influenced me in my hairdressing career, Leon Hamme [my creative role model], Robert Lobetta [gave me a sense of invincibility and adventure] and David Oliver Creasey [my level-headed moderator who balances my decisions every time I ask] are the most important. Juliet told me that Oliver had got married and moved to the U.S.A. - sadly we lost touch! The San Francisco Chronicle continues the story...
Denase at Estila continues the work...
Rest in peace Ollie - God bless you