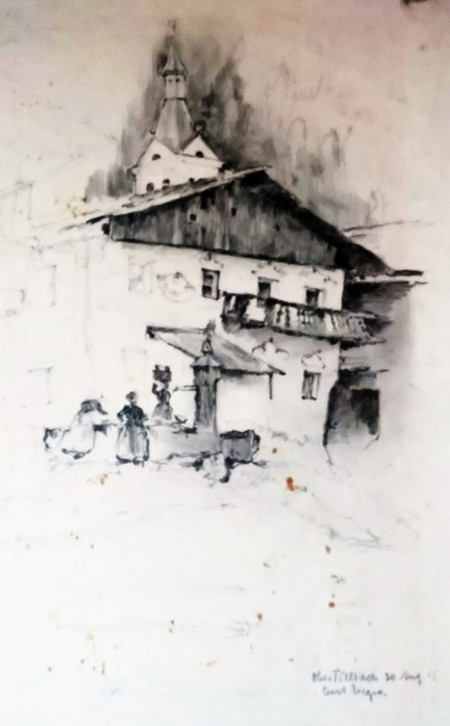 Obertilliach by Curt Ziegra, 30th August 1915 (36)
Curt Ziegra 1878 – 1946
I collected this rough sketch of an Obertilliach house with a sundial, by the artist Curt Ziegra, in about 1980 – from an auction, I think? I'm beginning to love it.
Curt Ziegra was a German painter, draughtsman, and illustrator who was born in Düsseldorf on the 20th September 1878. He studied at The Berlin Academy of Arts, Dresden, and Weimar. He was part of the very early Weimar movement – In 1907 Ziegra exhibited at the former Grand Ducal Museum, now the Neues Museum Weimar (exhibition of young Weimar artists).
Ziegra contributed illustrations to the literary-artistic magazine, Light and Shadow (licht und schatten – published in Munich and Berlin, weekly then monthly).
The Sketch, Obertilliach, is dated: 30th August 1915 – obviously during the First World War, 1914-1918. Ziegra served (I believe, but not fully confirmed) in The Royal Bavarian Infantry Regiment (Königlich Bayerisches Infanterie-Leib Regiment) as a regimental draughtsman – he would have been responsible for drawing maps and diagrams used by the regiment. In 1916 he exhibited at the Academy of the Arts, Berlin, 'War Painting', so he was clearly a war artist too.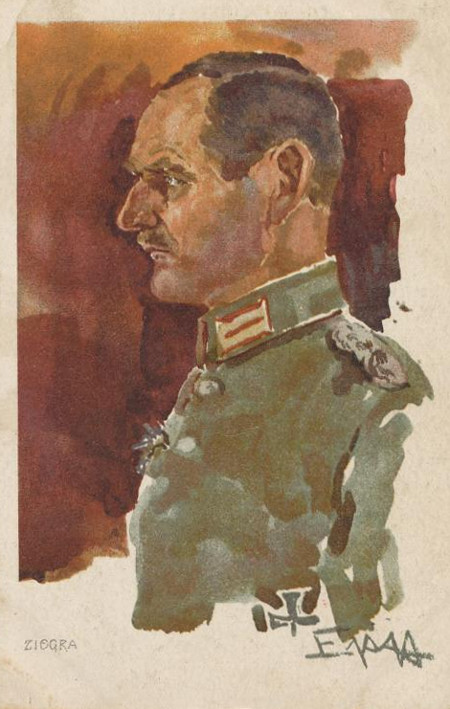 Colonel Franz Epp – 16th October 1868 – 31st January 1947. By Curt Ziegra
Between 1916 and 1917 Ziegra's war paintings were used in a series of 'remembrance postcards' (Military WW1 Postcards) for The Royal Bavarian Infantry Regiment. Franz Epp, later Franz Ritter von Epp, received the Bavarian Military Order of Max Joseph on 23rd June 1916 – I think he is wearing the medal in Ziegra's painting?
Between the wars Ziegra appears to have been painting around Garmisch-Partenkirchen southern Germany (Bavaria). In 1942 he lived in Hamburg, then Gauting, near Munich.
Curt Ziegra died on 14th November 1946, aged 68, in the beautiful lakeside town of Tegernsee, Bavaria.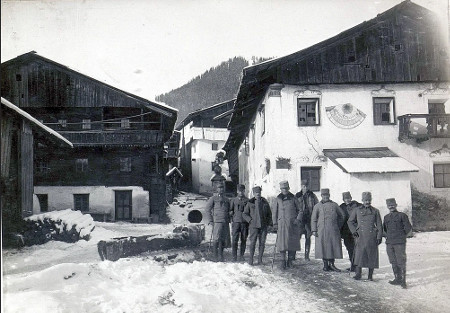 Obertilliach 1st January 1916 – The White War
I've been wondering if one of these gentlemen in this Fantastic photograph is either Curt Ziegra or Franz Epp? Note the water fountain laying down, in the sketch it's standing, also, you get a clearer image of the sundial in the photograph.
Obertilliach is a municipality in the district of Lienz in Tyrol, Austria. It is located between the Carnic Alps and the Lienz Dolomites. In 1915 Obertilliach, because of its geographic position (South Tirol), played its part in the German and Austro-Hungarian forces effort against the Italians. Called the Dolomite Front, but ultimately: The White War, 1915-1917, it was treacherous, and extremely cold. The Austrians took the high ground, and the front unchanged until Italian retreat after the Battle of Caporetto (19th November 1917)!
Photograph credit: Obertilliach. ÖNB/Wein, The Austrian National Library. Image Archive. Inv.No: WK1/ALB006/01708. I believe the image to be: Creative Commons – Public Domain Mark 1.0 CC0