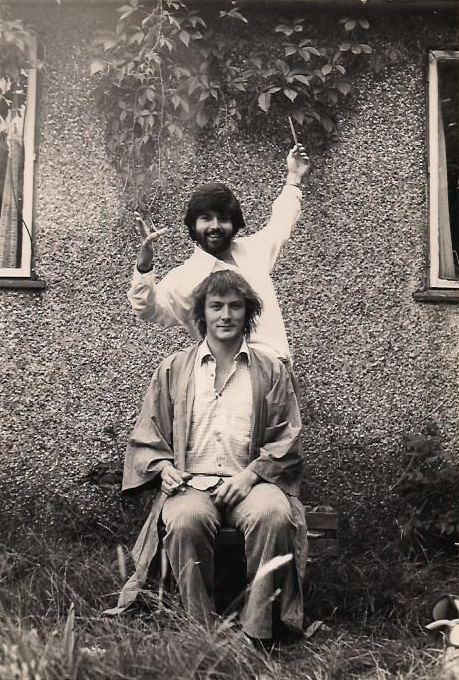 Robin and I – Eton 1980s
Justine Perry @justine_perry asked me a question during #ggchat, "Aside from SEO and on social media, how do you promote your website?" However, instead of emailing Justine an answer, as promised, I thought I would answer her here on SlashHair. Mainly because some #HairHour participants may also be interested?
The thing is, I don't really promote my website(s), I kind of just let it all happen! Which is SO terribly wrong. Anyway, forget me, can you see where Justine's coming from? What does one do to promote one's website that isn't SEO and/or social media related?
How good at doing It are you?
Maybe good website promotion starts off with a good reputation? Generally speaking, if a hairdresser, musician or writer [artist] wants to be successful, they must be able to perform at a highly competitive level. Crappy artists don't usually attract fans, and therefore will not attract a continual stream of visitors to their website. So, how good you are as an artist can, and I believe will, effect the numbers of people visiting your website.
And, if you're an independent artist, it doesn't mean that you have to do everything yourself. You will need professional help and advice – Find the right professional for the job.
Word of mouth (and I'm not necessarily talking about social media) is a vital and free form of recommendation for all artists. Personally, I'm never going to recommend a person or product that's bloody useless – because that will make Me look bad.
Doing the Business
Professionalism affects your marketing effort, your approach to business, your business acumen, will also have an effect on the numbers of visitors to your website. This could mean: being open about your fees, creating a trusted and safe eCommerce website, or turning up to the gig in a shiny van with your name and web address printed on the side.
How others regard your business, will effect the way they interact with you.
How do you connect with people?
I'm talking about 'real world' relationships. Connectivity is actually a subsection within business: Marketing and PR.
It's how you connect with people and how you get them to take notice. Be on the same wavelength as the person with whom you are talking, it's empathy and rapport. And it's marketing – bringing yourself to the attention and consciousness of your potential clients, customers or fans [client]. A massive subject.
You must know your client – if you want your website promotion to be successful – Create a 'Target Client Profile'. (Creating a target client profile may change the way you promote your website.)
Have you got any ideas?
The main thing I hate about the fashion and beauty industry is the false atmosphere of excitement and the untruthful claims of success that they trowel out – I've lived with it since 1973! However, you do need to attract website visitors with an incentive, a hook, people need a reason to visit your website. And if you offer a load of old bollocks, you will get jack shit.
Of course most artists offer free products, merchandise or music. Actually, free information is the real biggy on the net!
Here's an extreme example: if your target clients are horse racing enthusiasts and you sent out an email saying, "Visit my website tomorrow after 10.30 AM. I will tell you the winner of the 2.30 at Ascot." And the horse wins the race. You'd have some new Superfans, who'll visit your website every time you email them with worthwhile information. That's a hook; a reason to visit your website.
The hook could simply be a photograph of your client/s published on your website, which is far more realistic. People tend to be interested in themselves and what they can get out of it!
All You Need Is Love
How Do You Promote Your Website? With: Performance, Professionalism, Connectivity and good old Capt'n Hook, oh, and Love ;)