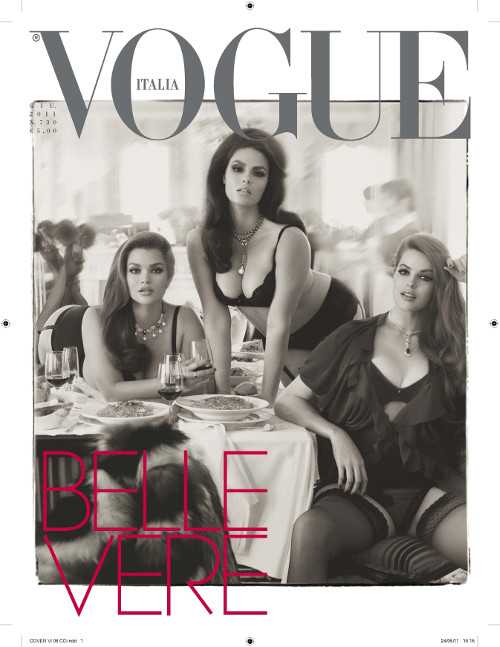 Plus-size models: Tara Lynn, Candice Huffine & Robyn Lawley. Vogue Italia Giugno Published: 03:June:2011 – Credits: Photography: Steven Meisel. Styling: Edward Enninful. Hair: Guido Palau. Make-up: Pat McGrath. Production: Sarah Maxwell.
I was driving down to Andover last Friday (23:01:2015) and as per usual I'm listening to BBC Radio 4; the beautiful, dulcet tones of Jenni Murray (extremely cuddly) and Woman's Hour fill the air.
Jenni introduces the editor of the new Slink Magazine, Rivkie Baum (very cuddly) (Slink Magazine is the UK's first plus-size fashion magazine) and Dr Orla Flannery (cuddly) a weight management expert from the University of Chester! I'm driving, listening to the chatter, when I'm slightly confused by the explanation of 'model's dress sizes!' Yeah, don't forget I'm driving!
A size 12 is a 'plus-size' model?
Fact: a size 12 is a plus-size model – I'm not disputing that! However, I always thought it was size 14! Call me old fashioned! <Lots of exclamation marks>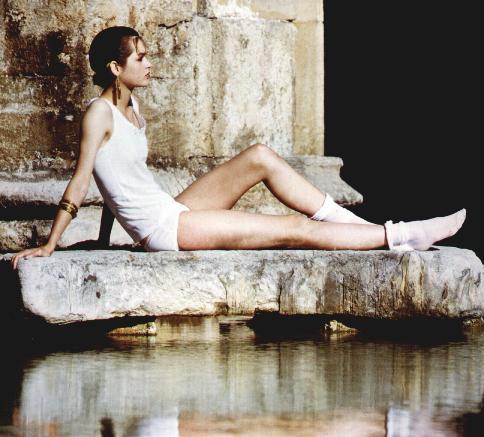 Persephone – Height: 5'10 Bust: 33 Waist: 23 Hips: 34 Dress size: 10-12
Chris Roberts and I (1981) had just been up to Nevs models, on the King's Road, and we were sitting in the Picasso Café having a beer, plotting our next move, when he pulled out the latest copy of Vogue Italia. He pointed out a fashion spread where some very young girls had been used as the models. I hated it, and said I hope this is not the future. Sizes 'zero' and 'double zero' were not being articulated at the time, however, everyone in the business was aware of the trend towards ultra thin models. For me, too thin and too young seemed offensive, disgusting and obscene.
The point is, in reality women were/are getting bigger! A typical model, Persephone, whose vital statistics in 1981 were: height: 5'10, bust: 33, waist: 23, hips: 34, was a dress size of 10 to 12, but today she would be a 4 to 6 or a USA size 0-ish!
Models are required to be tall (5'10-ish) and thin because clothes hang/look better on thin people! <more exclamation marks> We're talking about the fashion industry here, not reality. It's all about sales – maybe that should say money? Catwalk and photographic models are usually dress size 6 to 8, however, the UK national average dress size (in 2013) was/is about a size 16 (the basic range goes from sizes 4 to 28 – just in case you didn't know).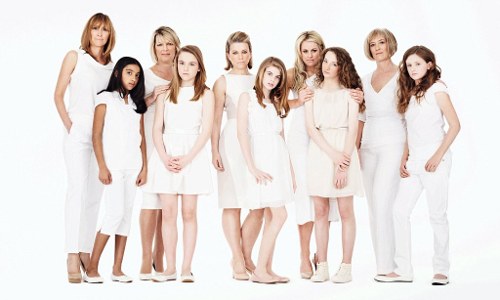 Slink Magazine should reflect The Dove Campaign for Real Beauty
Women, as we all know, come in all shapes and sizes; girls especially, have a lot of unnecessary body image pressures on them – pressure that is meted out by many different industries. While Rihanna, Miley Cyrus, Beyoncé, Lady Gaga, Nicki Minaj and Katy Perry behave like 'Porn Stars,' young girls are being bullied and teased because of the way they look!
Fat-positive feminists promote acceptance for women of all sizes; is SLiNK magazine a supporter of 'Fat is a Feminist Issue' by Susie Orbach? I hope so. For me, the acceptability of obesity has got to be balanced with health awareness, however, self-confidence and an end to food anxieties and faddy dieting, in my view, is a goal worth fighting for.
Cake?
Footnote: if one searches for plus size models on Google, they're mostly in lingerie! Why is that Slink Magazine?