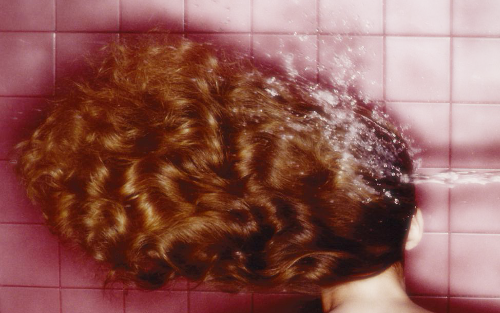 The other day a client told me about an article she had recently read: The secret of perfect hair: Use conditioner BEFORE you shampoo – Of course I had already read it!
The article basically explains the method of conditioning the hair before shampooing (I was going to summarise it, but please read it yourself) – By-the-way, it's not a new idea, remember those hot (warm) oil conditioning treatments of the 1960s and 1970s?
You should also read Siobhan O'Connor's article: How to Wash Your Hair Backwards. Have You Ever Tried It? – She gives an excellent quote by the late Horst Rechelbacher:
When you wash your hair, try using your conditioner first. If you want to go all the way, put oils on your scalp, give yourself a nice massage, and then comb it through. Next, wet it down, put conditioner all over your hair and then also all over your body. Wash yourself with the conditioner, then rinse it all off. Then, you use shampoo. Rinse it off as well, and you won't need conditioner again. If your hair is tangly, put a little oil on your hands and then comb it through – that's it. You will feel very pure. – True.
I have been in hairdressing all my life, I've heard and read a lot of bollocks about shampoos, shampooing, conditioners and conditioning, so here are my thoughts on this complex subject!
Firstly, there are a lot of variables, here are a few of the obvious:
The Water [hard-soft/temperature/pressure/pollutants].
The Shampoo and Conditioner [the multitude of formulations, PH etc., application/quantity and distribution, development time].
The Hair Type [Length (short-long), Density (number of), Diameter (thickness), Texture can mean: Afro-textured hair/tightly coiled/kinky, curly, wavy or straight (natural or chemically processed) and the degrees thereof; and within those groups there are three types of texture, coarse, medium and fine. Colour (natural or chemically processed). Condition (greasy-dry/healthy-badly damaged). So, for example you could have: long, thin, naturally straight, fine, tinted blonde, greasy and badly damaged hair].
The Dirt [natural body oil (sebum), styling products, environmental pollutants]
Your Modus Operandi [technique/frequency/etc.].
How to wash and condition your hair
You've got to pick the correct shampoo for your hair type! Put a small amount (about the size of a ten pence piece, more is not better) of shampoo on the palm of your hand, rub hands together and apply evenly to the dry (not wet) hair. Massage the hair and scalp gently and thoroughly. Rinse very well with fresh clean warm water (hot is not good and definitely not bath water). Repeat using slightly less shampoo. Rinse very well with fresh clean warm water. If the shampoo didn't lather on the second application, repeat a third time using even less shampoo, it should lather this time, if not, do it again because your hair is obviously dirty. Rinse very well with fresh clean warm water. Never leave shampoo on the hair to process unless there is a specific requirement.
For the best hair day you've had in months: After shampooing and before conditioning, use a citric acid rinse. Prepare the rinse in a plastic measuring jug by completely dissolving approximately 1/2 (half) teaspoonful of citric acid crystals into 200ml of boiling water. Add 300ml of cold water (you've now got 500ml of warm citric acid solution) – give it a stir. You could use an organic cider vinegar rinse instead if you want. Carefully pour the citric acid rinse over your hair, avoid getting it in the eyes, leave it on for one minute, rinse off well with cool-cold water.
If your hair is not squeaky clean do not condition it, re-wash it! You've got to pick an hydrating conditioner that is harmonious / compatible with your shampoo type and brand. Put a minuscule amount of conditioner on the palm of your hand, rub hands together and apply evenly to the to the hair – where required, often to the ends only. The quantity of conditioner used is actually determined by the hair type (the size of a ten pence piece is far, far too much). Comb the conditioner gently through the hair. Leave on for the required time – 1-3 minutes. Rinse off very well with warm/cool water.
After washing, rinsing and conditioning pat the hair dry. Apply a microscopically small amount of oil to the scalp (1-3 drops fine hair to 1.5ml on thick wavy hair). Put two drops of oil, say, into the palm of your hand; dip in fingertips from your other hand. Touch both sets of fingertips together for an even distribution and massage gently into the scalp – Not the hair! The oil will move down the hair shaft quickly and naturally.
Washing the hair three times a week is normal, however your lifestyle may change this?
Obviously that is not the end of the subject, there are a number of individual problems. Washing your hair in reverse, reverse shampooing, may seem to solve the fine, greasy, lank hair problem in the short-term (because, it is common for people with fine, lank hair to over condition and have problems with product buildup), but I think you will find that in the long-term, reverse shampooing may damage chemically processed hair to the point of no return.
If you think you have a problem with your hair, the only way to determine its true condition and identify the proper course of treatment that is right for you and your hair, is to talk with your hairdresser. I can help you to achieve and maintain, healthy, beautiful and shiny hair that will grow stronger and live longer. I can also teach you how to safely use the different styling tools, like straighteners – that can potentially wreck your hair, so you can recreate a professional looking finish without buggering it up.