Sassoon famously said, "hairdressing isn't given the recognition it deserves," what are your thoughts #HairHour? @Hair_Hour #vidalsassoon

— Salon Evolution (@salonevolution) February 10, 2016
Yet another blog post that has been requested by my friends on #HairHour – 10 Feb 2016. Initially inspired by Salon Evolution (@salonevolution) and egged on by Hair Hour (@Hair_Hour). Actually this is a blog post that I've wanted to write for ages.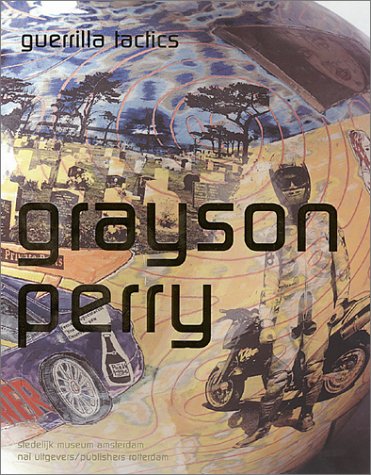 Grayson Perry – Guerrilla Tactics: (2002) Stedelijk Museum Amsterdam. NAi(010) Publishers, Rotterdam, Netherlands.
The first time I saw Grayson Perry's artwork was in June 2002 at the Stedelijk modern art museum, Amsterdam. And I was totally bowled over. And I felt an affinity with his work. You see, I've always fancied myself as a bit of an artist. A lot of hairdressers do; because we're working with our hands and there is a strong sense of sculpting; we are working with shape and form, each hairdo being individual. At this point I could start rambling on and on about my education, art influences and my days as a trainee architectural and industrial model maker, but I won't. You'll thank me for that.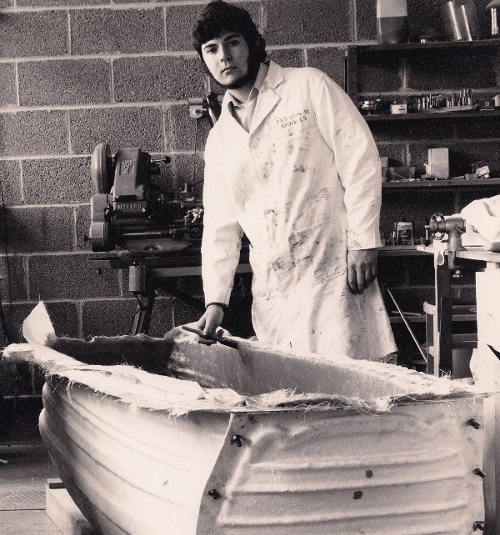 Me, 18, training to be an architectural and industrial model maker at Paradigm Models.
Yeah, well, anyway, it was 1976 and the client I was standing behind said, "You hairdressers are now like pop stars."
"Am I like a pop star?" I asked.
"Yes, very much so," she said, and that's where it ended. And I've never really understood how she meant it; was it good or bad to be like a pop star? In reality, I felt as though I were like an artist because I was trying to express myself through my work. And for me, my creations had a narrative behind them, they still do; it's why I found Abandoned Suitcase Reveals A Love Affair so fascinating – I felt a million miles away from what I visualised as being a pop star.
Over the past year (in 2015) the Bank of England asked for nominations for 'people of historic significance from the world of visual arts' – they want to put an artist on a twenty pound note. And yes, as one would expect, the wonderful world of hairdressing offered up the bloody obvious – the old maestro himself, Vidal Sassoon! A little embarrassing I thought. Let's face it, hairdressing isn't really a visual art, is it – even though I and most other hairdressers would like it to be. Hairdressing is a craft. And a transient craft at that!
In 2013 Grayson Perry gave BBC Radio 4's Reith Lecture, entitled Playing to the Gallery. As a devotee, I listened and actually took some notes (of which I'm about to use). In one of the three lectures (Beating the bounds) Perry presents eight tests to mark the boundaries of art to establish if it's art that one is looking at! Here I will sort of apply Perry's tests to hairdressing and see how we fare:
Is it in a gallery or an art context?
Artist Cornelia Parker, in a collaboration with Tilda Swinton (British actress, performance artist, model, and fashion icon), created an art installation called: The Maybe (1995), where Swinton lay 'asleep' in a glass vitrine display cabinet at the Serpentine Gallery, London. There is no mention of Swinton's hair anywhere – You can take a hairstyle into a gallery, but that doesn't make it art!
For me, art is about 'expressing an original idea' within a context (a body of work) and a narrative. Take Pablo Picasso's artwork: Bull's Head (Tête de taureau – 1942), simply assembled from an old leather bicycle seat (the head) and a rusty pair of handlebars (the horns). It's one of those artworks that you can easily diminish by saying, "I could have done that!" However, it expresses an original idea, it sits well within today's art context and was intended by Picasso to be art – pushing your old bike into a gallery wouldn't have the same effect.
Hairstyles struggle, in my opinion, to fit within an art context because of their 'intentionality' and lack of 'meaning.'
Is it a boring version of something else?
Even though the fashion industry, coiffeurs and their clientèle take hairstyles seriously, in my view there is far too much acclamation. There is a falseness in the fashion industry that 'hurts' hairdressing – the hair at the Paris fashion show was unoriginal, drab, boring, but the fashionistas applauded it enthusiastically.
Hairdressing can be both original and aesthetically pleasing (yeah and it can be funny too G.Perry), but however it appears: divine or disgusting, ordinary or extraordinary, it functions within the bounds of an aesthetic framework – Sounds quite a lot like ART to me – Oh Dear!
Is it made by an artist?
"Art historian Ernst Gombrich said, 'there is no such thing as art, only artists.' So you have to be an artist to make art." Grayson Perry, 2013, BBC Radio 4, Reith Lecture, Playing To The Gallery, Beating the Bounds.

Ai Weiwei The Artist Barber of Caochangdi, Beijing
The Chinese Contemporary artist, activist and Lego bandito Ai Weiwei, is known for cutting hair. Does this make his haircuts a work of art? Absofuckinglutely NOT.
Photography. Problematic!
Yeah, photography Is problematic. I'm not sure Perry got this boundary marker right? He asked a photographer friend of his for a definition of a photograph as art, and his friend said, if it's bigger than two metres and costs more than five figures! There was no mention of the visual artist Man Ray, who contributed so much to the Dada and Surrealist movements – his photographs usually make five figures or more.
Obviously hairstyles and photography go hand in hand, for how else are we to see hairstyles from the 1930s, 40s, 50s… or 'Trevor Sorbie's wedge?' Is a photograph of a hairstyle in a gallery representative of hairdressing as an art form? Surely the answer has got to be 'No' – isn't that artistic entitlement by proxy?
I suppose what I'm saying is, even though the National Portrait Gallery are celebrating one hundred years of Vogue, 'A Century of Style' (1916-2016), by putting on an exhibition, the hairstyles therein are not art.
The limited edition test
A classic example of a limited edition is that of a signed limited edition print; in the bottom left-hand corner, written in pencil by the artist, is the edition number of the print: 3/250 – meaning that this is the third print in a run of two hundred and fifty copies. I'm sure you can work out the maths, the greater the number of copies, the less each copy is worth. And I suppose you could say, the greater the number of copies, the more likely each copy becomes less of an artwork and more of a commercial object?
Apply this to hairdressing, and quite frankly you've got a shed load of hairdressing industry bollocks to contend with. Limited edition doesn't really exist, even though in theory it's supposed to – each client is a one off – in spite of the fact that they all look the fucking same!
The handbag and hipster test
The 'handbags' are the wives of the super rich Russian oligarchs, they waft through the streets of London soaking up culture and property. The 'hipsters' look a lot like lumbersexuals – beards, glasses, messenger bags and single speed or better still, fixed gear bikes (but they can't build a fire or chop wood). It's said that art belongs to the educated and the rich – so where ever you see a preponderance of ostentatious designer handbags and custom built Brick Lane bikes chained to the railings, you can be pretty sure something arty-farty is in the air.
Every London hairdresser knows these people, they are the wonderfully pernickety friends and clients who call us pop stars, artists and Daaarling. However, it's also these people who I believe Vidal Sassoon was referring to when Reuters interviewed him in 2010. Sassoon said, "Hairdressing in general hasn't been given the kudos it deserves. It's not recognised by enough people as a worthy craft."
I agree with Sassoon, it's not recognised as a worthy craft; and that's because of the transitory nature of hairdressing, a chignon, a style, a haircut are ephemeral and therefore seemingly worthless like paper cups, or a copy of Gustav Klimt's The Kiss on a never-ending print run.
The rubbish dump test (my favourite)
The rubbish dump test is the test I've always used. I imagine the artwork hidden in a scrap yard and wonder if I could pick it out amongst debris – BTW, I used to spend a lot of time in scrap yards looking for car parts. I liked Grayson Perry's warning that a lot of artworks would fail the test because the rubbish dump itself may be the artwork.
Do you remember David Mach's 'nuclear protest' sculpture Polaris (1983), made out of thousands of used car tyres? A scrapheap challenge extraordinaire outside the Royal Festival Hall, South Bank Centre, London – someone set fire to it.
What's the equivalent rubbish dump test for hair? Oxford Street on the first day of the winter sales? Discovering a genuine artistic creation under such conditions may take a little extra artistic talent in itself. Most people wouldn't recognise a good haircut if it jumped out and bit them.
The computer art test
The computer art test is the last of Grayson Perry's tests. Perry asks, how do we know it's web art, and not just another interesting Website? The question seems a little naive to me, it shows a slight lack of understanding about what the internet is. Does a 'piece' of web art really need to be a Website? And it's very interesting to look at Contemporary Artists' Websites – not an inspiring pixel to be found.
Internet art, just like art in the real world, must make us stop and think and engage.
The same can be said for hairdressing sites, very uninspiring; my desire to stop and think, and not click-off within five seconds, has yet to be fulfilled.
I've got to say: for me, the epitome of shitty internet hair are those unbelievably egotistical, Mirror Image App. photographs that are the excrement of social media.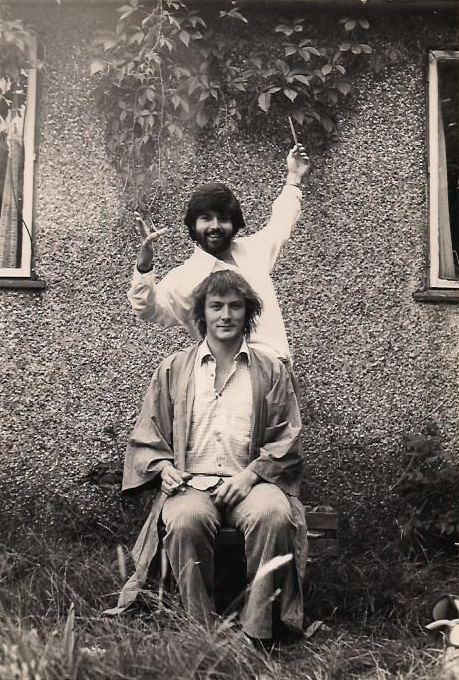 This is not art because we're smiling – it's a Happy Snap

Obviously hairdressing could be an art form, hairdressers, like artists, have the ability to see the world differently and express it and themselves through their work – most hairdressers do that, it's part of the job. The problem comes with value, because hairdressing it so transient, so everyday, so commonplace.
Anyway, I've no problem with being called a craftsman; take a trip to your local museum and see all those artefacts made by craftsman throughout millennia – brilliant.
Further Reading and Resources