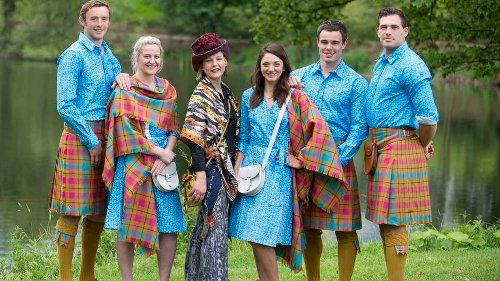 The Glasgow 2014 Commonwealth Games – Team Scotland's Parade Uniforms by Jilli Blackwood. (left-right) Scott Wright (Rugby 7's) Frania Gillen-Buchart (Squash) designer Jilli Blackwood, Charline Joiner (Cycling), Lee Jones (Rugby 7's) and Sean Lamont (Rugby 7's) – the opening ceremony uniforms during the Kitting out session at the Univeristy of Stirling, Stirling. PRESS ASSOCIATION Photo. Picture date: Sunday July 6, 2014. Photo credit: Kenny Smith/PA Wire.

Okay, so I've had my pop at Jilli Blackwood on Facebook and Twitter:
Yeah, well, the blue of the shirt and dresses do make Team Scotland look like The McSmurfs and Jilli's dark outfit is a little sinister and very Gargamel-esque, however, I would like to stand by her by saying, "The tartan weave and design is traditional, emotional and inspiring (just like the Scots. The blokes really do look like Tartan Trannies – haha), and as her source of inspiration for the design of the shirt and dress, I feel sure that Jilli is reflecting the pattern used throughout the Scottish Parliament. For me, there is a strong feeling of Henri Matisse in the look. Jilli is a renowned textile artist and designer, and I feel Very confident that when Team Scotland's athletes step forth and parade around in the dazzling opening ceremony they will look Totally Awesome." The petition to scrap Team Scotland's parade uniform is bollocks – The funny thing is though, the Glasgow 2014 Commonwealth Games mascot is called Clyde, it's a thistle designed by competition winner Beth Gilmour, from Cumbernauld, but it looks like a Gollywog and no one seems to care – which is very odd!
Anyway, moving on to some politics, I suppose that pumped up, little bully Alex "Fish Face" Salmond and that fucking little Ewok Nicola Sturgeon, will call a Jihaggis when the beautiful, fair people of bonnie Scotland vote NO in their independence referendum on the 18th of September 2014: obviously Salmond's as thick as a short plank, everyone in England knows that if the Scottish really wanted independence, all they had to do was give the vote to the English – we'd soon tell them to fuck off because we're sick to the back teeth of hearing, "I hate being ruled by Westminster" – and then there's that dour Andy Murray, who said that he would be supporting anyone other than England in the 2006 World Cup, obviously he faced a backlash from his English fans and his excuse was that he was only joking, but let's face it, all the clown was doing was echo a typical anti-English sentiment that's rife throughout Scotland, he'd unconsciously laid bare his inner thoughts (wanker) like the egotistical Tommy Sheridan, who was on Andrew Neil's totally brilliant late night show "This Week" (10 July 2014 @ 11.35pm) – Sheridan did the "Take of the Week" slot, which parodied the opening scene from one of my favourite films, Trainspotting directed by Danny Boyle, where heroin addicts Mark "Rent Boy" Renton (Ewan McGregor) and Daniel "Spud" Murphy (Ewen Bremner) are running hell for leather down Princes Street in Edinburgh and are being chased by two John Menzies' security guards, but Sheridan's voice is not the voice of an eloquent punk, it's the voice of an embittered socialist, "Choose life, choose more jobs, choose more homes, choose a publicly run health service, choose free education, choose a living wage, choose spending on hospitals and schools not immoral nuclear bombs, choose a new fairer Scotland, choose independence…" he blurts out, letting us all know what he really thinks, that they're a nation of drunks and junkies, Sheridan missed out Irvine Welsh's ending to that section, "But why would I want to do a thing like that?" Choose wondering who the fuck you are on a Friday morning after staying up til the wee small hours drinking Tennent's larger and watching Itchy and Scratchy – the Abbott and Portillo show, and ye can stop ya fah-kin whingein cuz we all know what it's like being ruled by the fuckin Scots, Gordon "Bigoted" Brown Prime Minister and Leader of the Labour Party from 2007 until 2010, who was also previously the Chancellor of the Exchequer in the Labour Government from 1997 to 2007, and Alistair Darling Chancellor of the Exchequer from 2007 to 2010, fucked us All up the arse during the 2007-2008 global financial crisis – including 2008 UK banking crisis – (the worst crisis since the 1930s great depression), which cost the United Kingdom hundreds of billions of pounds sterling and then at the time, the socialists had the audacity to protest, "Why should we pay for their crisis?" as if they lived on the forest moon of Endor, Oh Shite they do. Okay, well it was under the watchful eyes of Messrs Brown and Darling when the former treasury chief secretary Liam Byrne (Labour MP for Birmingham), left that infamous note for his successor saying, "I'm afraid to tell you there's no money left" and there it was, yet another slip that tells us all the Scottish members of the Labour Party are not to be trusted with the United Kingdom's finances – Salmond's fascist Scotland will soon go bankrupt and bring the rest of the UK (The London English) to its knees – retribution for 1746 Rab C. Nesbitt style, which is totally brilliant because it will boot the Scottish Olympic team, Football team and their effeminate Rugby team firmly into touch, they'll never win another medal, shelf-determination at its best :)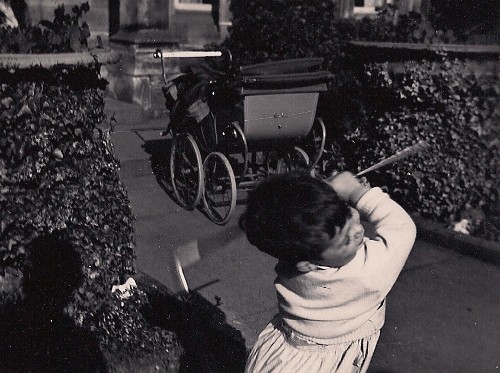 Proud to be a Sweaty Sock – Me playing golf St Andrews 1 1/2 years old
I'm part Scottish (paternal grandparents), Robson wears the Gunn Clan Tartan, our motto is, "either peace or war." As a baby I lived in St Andrews, Fife. My Silver Cross pram in the background, my brilliant golf swing in the foreground.
I LOVE Scotland – We Are Better Together in a United Kingdom