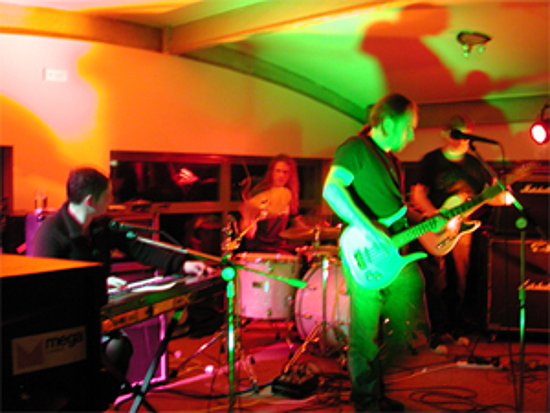 My first band Menendez playing Guernsey –  They're Extra Special for me

Hairdressers Journal @hji tweeted a link to a 'sponsored' blog post entitled: Maximise Your Salon Music Choices With PPL, and it jogged my memory – I'd said that I would write a blog post about Open Source Royalty Free Salon Music for: @GaryInghamHair, @paulcuzcurry and @LayersHair.
Salon Music – Why Me?
I'm the founder of UnsignedBandPromotion (which, I hasten to add, is in desperate need of new content, updating and a redesign). Since 1994 my thing has been online promotion techniques (also Search Engine Optimisation); and in August 2004 I began specialising in website promotion for independent bands – that means I have been helping musicians to get their websites noticed for over 10 years :-)
My Strapline – sort of!
I help independent musicians and artists to get their websites noticed by fans, search engines and the music industry in half the time they could do it on their own, I do it for free and I am a world leader – which is a pretty big boast. I am also a firm believer in the Open Source movement, my design philosophy is: keep it simple, and my key words are: dedication, service, simplicity, purity and harmony.
Over the last ten years I've talked with hundreds of independent musicians about Band Promotion.
Maximise Your Salon Music Choices With PPL via @hji
Have a read of: Maximise Your Salon Music Choices With PPL.
As HJi's blog comments are closed, I'll leave my comment here:
First, I've got to point out that the article is slightly weighted towards TSG Media who sell music systems especially designed for retailers! Mr Paul Stead MD is heavily quoted and he makes some very good points that I totally agree with.
Product versus Shopping Experience
Playing the right kind of music in your salon is a simple and effective way to reflect your salon's identity. It is an element of salon branding. Branding is about every element of your business – #1 being the core element: Hairdressing (quality of product).
Clients visit a salon to get an outstanding hairstyle – Even the world's best mixtape won't compensate for a shit hair cut – but maybe the world's best hair cut Would atone for a couple of hours of shitty pop music?
Having said that, I'll sort of contradict myself: if any of the elements of your salon's brand don't meet with your client's acceptance, then there is a good chance you will eventually lose them.
Obviously one must achieve the right balance. And remember this, playing targeted music is beneficial for clients, staff and business.
Make Sure You Are Correctly Licensed
There are two separate independent organisations: PRS and PPL, who represent different copyright holders and issue separate licences on behalf of the music industry. Normally you will need both licences – they're V.easy to buy online.
PRS for Music (used to be called Performing Rights Society) collects and distributes money for the use of the musical composition and lyrics on behalf of authors, songwriters, composers and publishers. PRS for Music Licence Fee: aprox. £80.00 per annum at time of writing.
PPL (Phonographic Performance Limited) collects and distributes money for the use of recorded music on behalf of record companies and performers. PPL Licence Fee: aprox. £140.00 per annum at time of writing.
Fees are determined by a number of factors – there are a number of add-ons!
Open Source Royalty Free Salon Music
PRS and PPL represent the different copyright holders within the music industry (authors, songwriters, composers, publishers, record companies and performers), but what about open source, copyright free music?
Well, yes, open source, royalty free, salon music does exist and YES you can use it without having to pay PRS or PPL.
There are a number of websites that supply royalty free, open source, copyright free music; they will (should) issue an e-certificate for you to email to PRS and PPL! (Even though it's open source, you may still have to buy an overpriced CD!) Creative Commons and the Open Source Initiative are the two main licensing bodies that support and guide musicians to share their music and creativity freely and openly – I am a firm supporter.
Then there are a plethora of independent, unsigned artists, musicians and bands who produce open source, copyright free music (mp3/CD physicals) and are NOT members of PRS or PPL. (Be warned, you are not allowed to play cover songs in the salon.) (And you will still need the artist's express permission.)
I would warn however, if you're playing music to clients via a music player, you will be harassed by both PRS and PPL for payment. And on top of that, there are scammers who'll try to get you to pay them!
I can fully understand why you'd want to save a couple of hundred quid or so a year, but in reality, I've a strong feeling that it's a false economy to cut your nose off to spite your face (in regard to the license fees). Owners and performers of music not only have a right to receive royalties, but also need your support (they're not all Justin Bieber). Besides, can you imagine what some of that open source music sounds like? …let's be choosy here, after all it is your business's reputation on the line.
I've got A Better Idea!
Hairdressers, make-up artists, photographers and models who are just starting out, look to build their portfolios by doing collaborative test sessions. For hairdressers, test sessions are all about sharpening one's hairdressing skills, collaborating with a new group of creative professionals and familiarisation of the studio/backstage environment. However, it's not just hairdressers, MUAs, photographers and models who want the test session experience; artists, musicians, bands, fashion designers and fashion stylists are looking for it too!
Collaborating with musicians and fashion houses (a fashion company. a designer. a shop: selling off-the-peg, custom-made, haute couture clothing) whose music genre and fashion style are compatible with, and reflect your identity/brand, can have very positive and worthwhile consequences in what is ostensibly a London centric industry.
Working with creative thinking people, who are looking to be innovative, will help you to push hairdressing boundaries and set new fashion trends.
In the end I think you will acquire plenty free music, and hopefully some free/heavily discounted fashion, and heaps of kudos. And that really does knock Free Salon Music into a cocked hat!