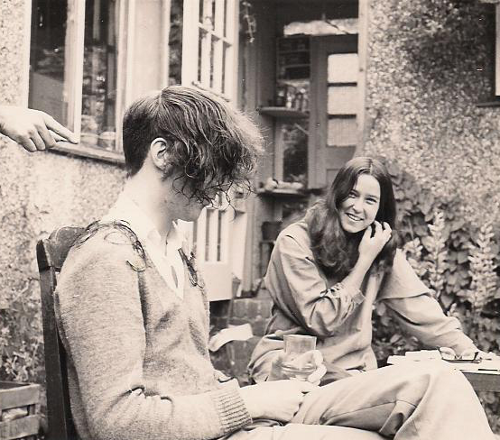 The bohemian M. Pring returning to normality. Eton 1980

The big problem for me with articles like Cosmopolitan's 10 things your hairdresser REALLY wants you to know, is that they are usually stuffed full of hackneyed truisms like, 'Number 3. You get what you pay for;' and unfortunately, they don't really come up with the goods. What does your hairdresser really want you to know?
Have a quick gander at 10 things…
First, hairdressing isn't just about cutting and styling hair, it's principally about communication – And The key hairdressing skill is the ability to listen; if your hairdresser is doing all the talking during the opening consultation, something is very, very wrong.
Second, hairdressing is both a personal service and a craft, I know that's obvious, but it's how your hairdresser combines those two that distinguishes them. For instance, you don't want all personal service and no ability do you? Or maybe you do?
Third, your hairdresser has no favourites – I love you all equally. And that maybe is too much flannel!
Okay, now I'll go through Cosmo's 10 things:
1. Can you do my hair like this picture? Most hairdressers love pictures of hairstyles, they're great conversation starters. You want a hairdresser honest enough to speak frankly and with the ability to create something suitable for you and your hair. All photographs need interpreting and put into context: who's the person. why was the photograph taken. what are they selling. is it their normal, everyday hair. has the image been digitally remastered…? You don't want a hairdresser who just says, "Yes" then proceeds to fuck it up!
2. I want to grow my hair: I used to say, "If you want to grow your hair it's important to get it cut regularly to prevent it splitting." But actually, that's mostly bollocks – as with all things hairdressing, it very much depends on your hair. If you want to grow your hair, Don't Get It Cut – it'll grow faster! Do keep it in good condition though, and see your hairdresser very occasionally (4 months-ish), for style correction and a quick check through.
3. The truism, "You get what you pay for:" A salon is only as good as its worst hairdresser – one of my banalities! Looking for a new hairdresser? Recommendation is key, so chat with friends, and if you see someone with a great hairstyle, ask them where they get it cut – you'll soon find a hairdresser or salon coming to the fore. Before making an appointment go in and have a look-see, get a free consultation with the stylist and pick up a price list – and let's face it, if the stylist is good you'll normally have to wait for an appointment.
4. The untruism "Salon (professional) products are better than High Street (retail) products:" Oh that that were true; it's certainly what hairdressers desire and have been gunning for. I know it's a cliché to say 'economy of scale,' but it's the reality; big supermarkets (inc. Boots UK) have a much bigger buying power than your local independent hairdresser. There are hundreds of hair products on the market, your hairdresser, the expert, can talk you through them and recommend the right products for you. "Full of hidden chemicals," is scaremongering. Talk with your stylist.
5. What is your hairstory? Make sure you talk with your hairdresser before you get your hair washed; this is called an opening consultation and is Very important. It doesn't matter how well your stylist knows you, you should always receive and opening consultation. Having said that, a good hairdresser will know your recent hair history just by looking at it, and will confirm that by talking you through it. If your stylist is not listening during the opening consultation, run away quickly!
6. & 7. Condescending Hairdressers: I found numbers six and seven of '10 things…' ('colouring and lightening are opposites' and 'you can't lift colour with colour'), slightly patronising. Inferior hairdressers often use smoke, mirrors and bollocks to explain technical matters! Salons who use specialist colourists don't usually have this as a problem.
My #7. Describing colour: Don't try to describe your hair colour over the phone, it is virtually impossible. The colourist will want to see you, it's also a good idea bring in a photograph if you want to discuss a colour.
8. Unhappy with your hair? Most hair issues are resolved at the opening consultation, but if you are not happy with your hair at any time, Tell Your Hairdresser As Soon As Possible; you Will get it sorted out – usually for free. A good hairdresser wants & likes to be informed of issues so they can improve themselves.
9. Client etiquette: Of course etiquette works both ways. So yeah, don't be late, equally, tell your stylist if you're on a schedule. Also, holding a mobile phone to your ear is distracting and awkward. But remember this: You are always right!
10. Love me, recommend me: Yes, the hairdressing industry does rely heavily on word of mouth recommendations. And Yes, you will normally receive a discount off your next appointment for referrals.
10 things your hairdresser REALLY wants you to know was written by Annie Davies for Cosmopolitan magazine on 3 June, 2015 @ 10:44 AM