When @AyeKandyApparel tweeted their 20% 'first birthday' discount for their 'tartan T-shirt,' my first thought was, "45%!"
Where did that come from?
Tartan oversized T-Shirt is available in all sizes online. Use code FIRSTBIRTHDAY for 20% off http://t.co/nmN2tMAO5v pic.twitter.com/2bGzvoFzaa

— Aye Kandy Apparel™ (@AyeKandyApparel) June 16, 2015
Aye Kandy Apparel™ (launched May 2014) are a contemporary, urban fashion house based in Glasgow, Scotland. Their aim, it seems to me, is to recreate that grassrootsy Malcolm Mclaren/Vivienne Westwood-esque vibe that initially pitched mid-range – American Apparel meets Ed Hardy it seems to me! That's My personal opinion anyway!
And the reason I say that, is because of the slightly subversive, provocative, anti-establishment-ish and anti-Christian, symbolism on Aye Kandy Apparel's tartan T-shirt. Anyway, does symbolism really matter; is symbolism in fashion important?
Well, yeah, I think symbolism in fashion really does matter and is relatively important. It says who we are and what we believe. But what about the people who wear symbols that they don't really understand purely as a fashion statement, just to look cool; are they spreading a false message about themselves? Worse, are they spreading a subversive political message that they don't understand?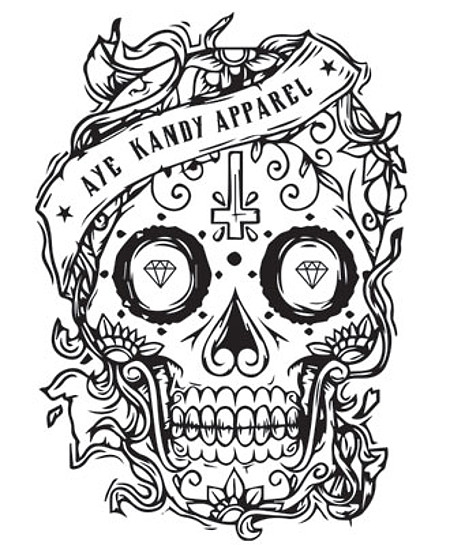 The Aye Kandy Apparel™ Logo
Aye Kandy's Logo is, I assume, based on the famous Mexican sugar skulls, they are one of the main symbols representing 'Dia de los Muertos' or Day of the Dead – All Souls' Day, part of Allhallowtide that includes Halloween. So I searched Google for sugar skull, and was surprised to find this next V.similar image staring straight back at me – spooky: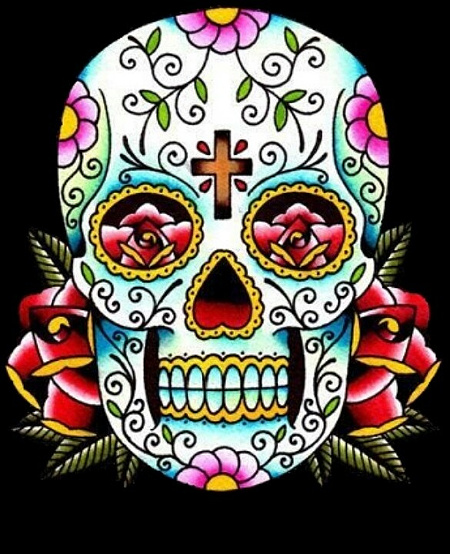 Sugar Skull Tattoo Design
I'm fascinated by the number of satanic symbols in Aye Kandy's logo, see if you can spot these (there are more):
Obviously the inverted cross: The upside-down Latin cross is/was called the Cross of St. Peter (old Christian) it has come to represent Satan – very unacceptable to modern Christian organizations! (Aye Kandy wouldn't get away with this if it were an anti-Muslim symbol).
Rings of fire: A Luciferian symbol of hell!
Inverted or reversed pentagram: Another representation of Satan!
666: Sign of the Devil or, the number of the Beast!
An inverted heart or an upside down sigil of Lucifer: Yet another Luciferian symbol of Satan!
A transposed and stylised eye of Horus, maybe the evil aye – LOL: Actually in many cultures it is seen as the all-seeing and protective eye, but it is also seen as one of the Illuminati Symbols!!
The Roxy-esque labyrinth: The journey into consumerism hell!
That is one hair-raising, evil and satanic T-shirt.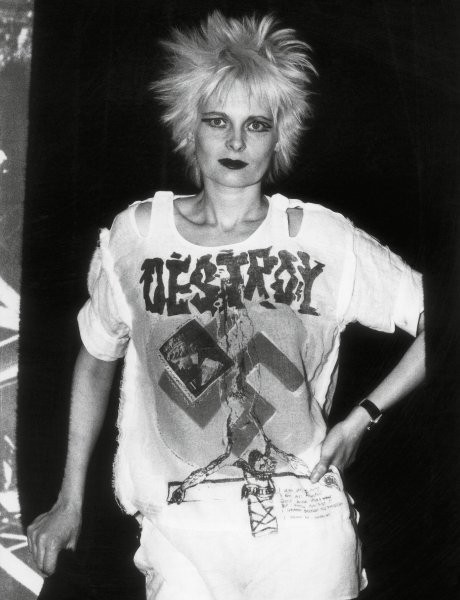 Vivienne Westwood 1977
Alexander McQueen loved skulls, but I'm not sure that the Vivster ever did? Vivienne Westwood's famous 'Destroy' T-shirt associates the Queen with a Swastika and an inverted crucifix (tackle out) – symbolism in fashion at it's worst (best), her early years Active Resistance philosophy seems to deliver quite a strong and offensive political punch just thirty years after WW2.
Free speech is worth dying for – I should've got a Je Suis Charlie T-shirt, but is wearing provocative fashion actually a sign that you are a follower and not a rebel?
…Now where are my Abercrombie & Fitch camo shorts?!!!!!!!!!!