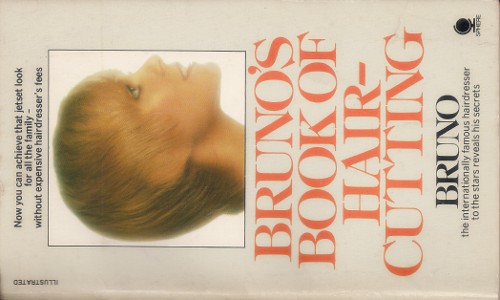 PhorestSalonSoftware – @thephorestword tweeted during #hairhour:
Scary. We did research among 1,500 salons. Only 17% of clients returned to the salons more than twice. Thoughts on why? #HairHour

— PhorestSalonSoftware (@thephorestword) July 30, 2014
Well it really is a staggering statistic – I replied listening to my gut feeling, "Quality of work?" And when I say quality of work, I'm thinking; why would a client who's happy with her haircut want to change her hairstylist?
Jump back in time to the mid to late 1970s, I was working at Ricci Burns in the King's Road, Chelsea, London and I thought that hairdressers in the provinces (everywhere outside London) were rubbish! Sounds very snobby, judgemental and biased – I know, but it was born out of some personal experience. My clients demanded excellence, their careers often revolved around their appearance, an inferior, sloppy hairdo would not have been accepted. On the other hand, the demand for a high quality hairdo in the provinces didn't appear to be there; dare I say that clients in the provinces (the general public) wouldn't've even recognised a good haircut in 1976 – yeah, I know that's a massive generalisation, but what I'm talking about is a demand that drives hairdressing standards.
For me, this whole journey starts in the period between 1970 and the late 1980s, maybe it was when Vidal Sassoon created his line of hair-care products in the early 1970s? Most London salons had their own line of 'self' branded hair-care products for sale, but I think Vidal Sassoon was the first to go into major production (with Helen of Troy Corporation), selling in the USA and Europe in 1980. This was the beginning of celebrity hairdresser branded hair-care and beauty products. John Frieda, another big name in the UK, followed suit in the late 1980s. Today there are a plethora manufactured by global beauty companies like: Procter & Gamble (Vidal Sassoon), L'Oréal (Jean-Louis David), Estée Lauder (Bobbi Brown – Makeup Artist) and Unilever (Tigi for hair salons, Toni & Guy)…
Then there was Toni & Guy who franchised their business in the late 1980s – obviously they had their own branded hair-care products! In my view, it was Toni & Guy who not only improved hairdressing standards in the provinces, but also pushed up the price of hairdressing, and they increased competition on the high street. I won't talk about Unisex (1960s), but that too plays a part.
Over the last five years or so we've seen the massive rise of social media which has had a profound impact on television, celebrity culture, mainstream journalism and of course the general public. The image of the self, including the selfie and user-generated photos, take on a new meaning and importance – everyone and anyone can suddenly become a celebrity by going 'viral'! The public demand for high quality hairdressing hasn't only arrived, but it may have exceeded the supply! Hence, "Only 17% of clients returned to the salons more than twice." …The general public aren't getting the celebrity service they now demand, so they are looking elsewhere for better. They are salon hopping! Actually, they should be complaining.
There is another explanation though:
Firstly, I'm always very suspicious about surveys and survey results & analysis. Phorest, who conducted the survey and who asked the question, are a salon software business – so they do have a vested interest and they will have an angle! I've a strong feeling they will say that if you use the Phorest Salon Software, you will be able to identify what's going wrong and grow your business?
With greater competition on the High Street, salon owners are under more pressure to maximise their income from floor space, so they are renting out chairs to freelance hairstylists, therefore these salons may only be able to accommodate a 'walk in off the street' clientèle? …Walk-in clients are not usually regular and loyal. It all depends on the freelance to experienced staff member ratio.
And don't forget the old adage, "a hairdressing salon is only as good as its worst stylist!"
Cover Image: Bruno's book of haircutting (Couper les cheveux soi-même) by Bruno Pittini. Copyright & published 1976, this edition by Sphere Books 1979 – My copy is the last one left (I think). The book is a step-by-step guide to cutting your own hair, so, if you're tired of expensive visits to the hairdresser…
Bruno Pittini (deceased) and I did a couple of fashion shows together in Paris in 1980/81.