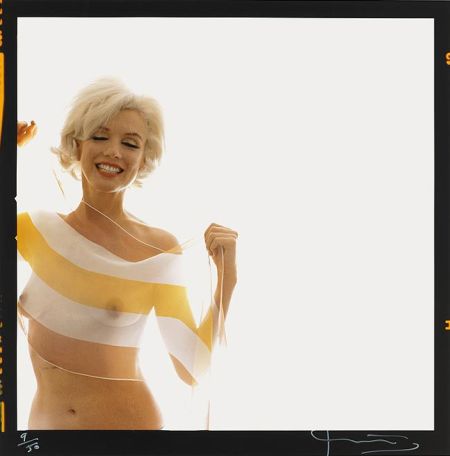 What I love about Marilyn is that she has been so many different shades of blonde – Golden, Ash, Champagne, Honey, Bleached, Strawberry, Platinum and White Blonde – you've got to love that in a person. This image: Marilyn Monroe by Bert Stern (the last sitting, June 1962) is a White Blond (Bleach + 6% / 20 vol peroxide + toner).

Thinking of going blonde this Summer? Thought I'd point out the different versions for you :) There are three main categories: warm (red spectrum), cool(blue/green spectrum) and neutral!
Varieties of Blonde:
Flaxen Blonde: the original neutral, natural blonde. Very light but not white blonde.
Yellow Blonde: obviously a blonde with a yellow hue – slightly gold maybe, hopefully! At its very best a Champagne Blonde.
Platinum Blonde, White Blonde: often extremely light, a whitish looking blonde; almost all natural platinum blondes (tow-headed) are children. Technically, a platinum blonde is blueish and therefore a cold blonde. It is sometimes called a Silver Blonde.
Sandy Blonde: a beige blonde, a greyish-hazel or cream-coloured blonde – naturally warm. Makes beautiful, natural looking highlights.
Golden Blonde: includes pinks and yellows to create a slightly darker, rich, warm, golden-yellow blonde.
Strawberry Blonde, Venetian Blonde or Honey Blonde: think of red then add it to what you think of as blonde! It's a reddish blonde.
Dirty Blonde, Dishwater Blonde, Grey Blonde, Mouse: a natural dark blonde that is the perfect background for highlights. Naturally includes flecks of golden blonde and brown, but is often flat and dull, and quite frankly, mousey.
Ash-Blonde: technically ash means green! However, green counteracts and neutralizes red. A cold and very natural looking blonde. It can come out as a smoky steel blonde.
Bleached Blonde, Peroxide Blonde: an artificial, yellowish blonde that is trying to be a platinum blonde, but it's not. The base blonde of a 'bleach and toner.'
Dark blonde: when natural, it looks a shade of light brown in the Winter and lightens in the Summer. If your natural colour was brown, but is now grey; go dark blonde. Yet another classic blonde for highlights.