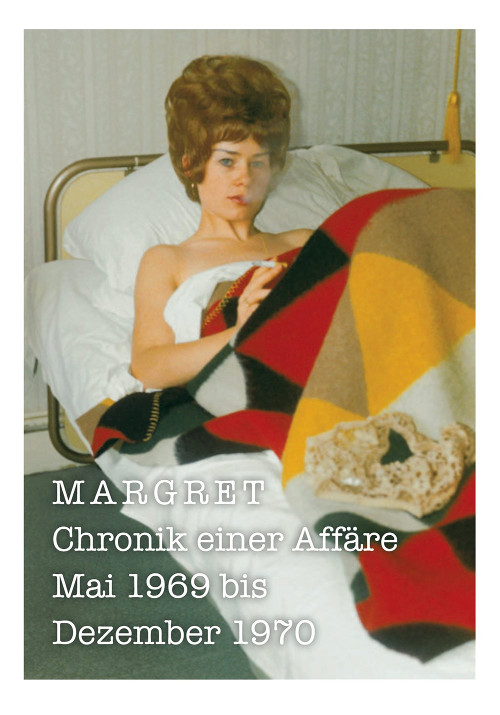 A love affair in a suitcase! Book cover, Margret: Chronik einer Affare Mais 1969 bis Dezember 1970 – Chronicle of an Affair May 1969 to December 1970. Compiled and Published by Nicole Delmes and Susanne Zander; text by Veit Loers and Susanne Pfeffer, at Verlag der Buchhandlung Walther Koenig, 2012. ISBN: 9783863352547. Out of print.
White Columns Gallery, in collaboration with Galerie Susanne Zander | Delmes & Zander, presents this unusual and remarkable collection of photographs and ephemera that relate to a love affair which took place between the Cologne businessman Günter K., 39, and his secretary Margret S., 24, in the late 1960s and early 1970s – Is this revenge porn turned arty-farty? The exhibition runs at the White Columns until April 18th 2015 – Also very interesting Galerie Zander Blog.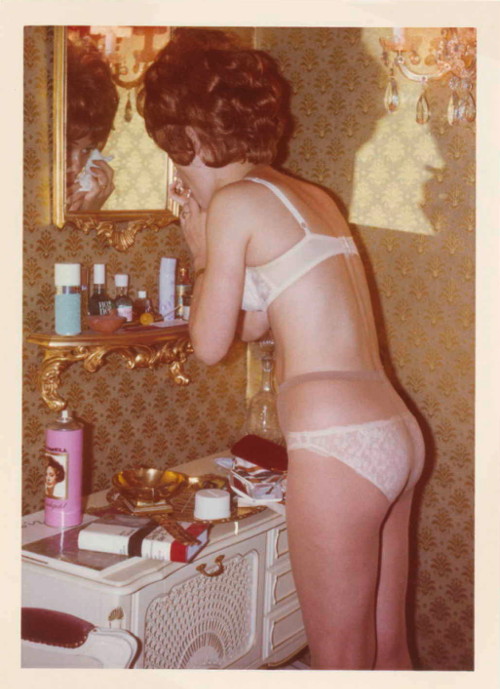 Günther K. "Margret" 7th December 1970; Original Vintage Print 13cm x 9cm.
To be a hairdresser you've got to be interested in people, not just fashion; because as a hairdresser you can't really avoid getting caught up in the revelations and the machinations of other people's lives. In a way, hairdressers are voyeuristic; we float around our clients like a camera, intently watching and actively listening while we primp and preen and snip and style, and maybe that's why I found the discovery of 'Margret: Chronicle of an Affair – May 1969 to December 1970,' so fucking compelling.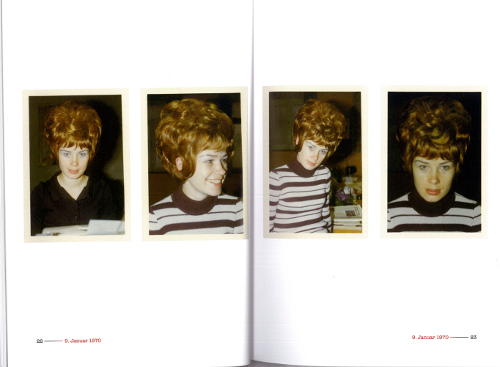 (great hair) Margret S. by Günther K. 9th January 1970 – pages 22-23.
I originally found 'Margret' in the Telegraph and I was instantly mesmerised by her Dusty Springfield-esque bouffant hairstyle and the atmospheric photographs that seemed strangely, beautifully familiar.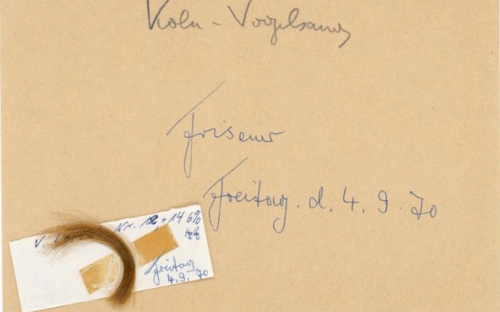 Dated, Friday 4th September 1970, has this hair sample been used by Margret's hairdresser to either test a L'oreal hair colour (Récital was a very popular home hair colour that would fit the code?): 50% .12 + 50% .14 (a reddy-caramel-ish tint) + 6% H2O2 (20 volume peroxide) or was it to be passed on to her normal hairdresser? Just to say, all my colour formulae are my intellectual copyright – apart from Frances's, which is, Wella Koleston Perfect: 50% 8/0 + 50% 9/0 + 20 Vol!
The photograph of the hair sample, with it's simple formula, seems so everyday to me – I love it because of the background context it provides to the narrative! I don't know what it says in the book (which I would LOVE to own) about Margret's hair; but Museperk says or maybe quotes, "We also observe Günther's apparent transformation of his secretary from a shy, simple, mousy-haired girl to a modern, sophisticated woman with a fiery red high-maintenance beehive hairdo."
Galerie Zander says, "Somehow, the ultimate symbol of the man's control is the absurd bouffant hairdo that the woman wears in almost all of the photos, regardless of how little else she has on. It feels to me like a giant handicap that her culture has foisted on her – a notably stylish ball-and-chain."
A "high-maintenance ball-and-chain hairdo" was pretty much the norm in the 1960s; it wasn't until the mid to late 1970s that time consuming sets and comb-outs started to fall out of fashion and the ubiquitous blow-dry came to the fore – Don't pull time out of joint OUTRAGEOUS blog.
All of these wonderful photographs are courtesy of Galerie Susanne Zander | Delmes & Zander Visit Their Website, and you might want to follow White Columns Gallery on Twitter?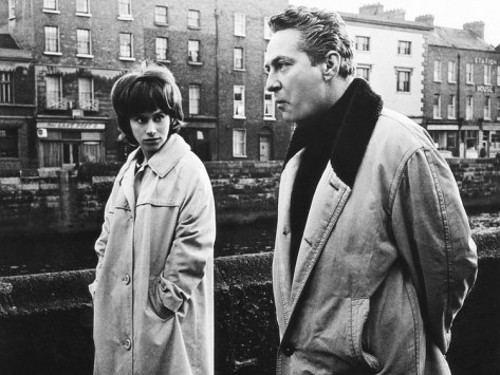 Rita Tushingham with Peter Finch in "Girl With Green Eyes" (1964)
The photographs of Margret and the love affair, remind me so much of Hazel who looked like Rita Tushingham in 'Girl With Green Eyes,' a film of the book (published 1962) written by the Irish novelist Edna O'Brien – who's hair I used to do in the mid 1970s.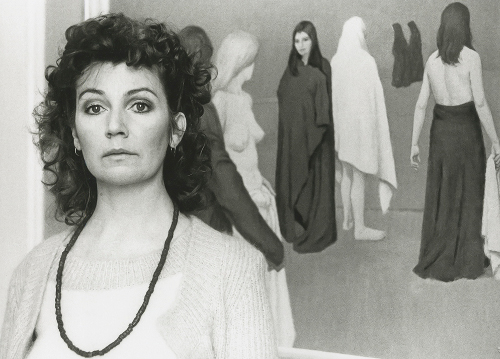 Edna O'Brien 1974. Photograph by & courtesy of Fay Godwin.
Hazel lived with her boyfriend in an arty flat overlooking Wandsworth Common. I stayed the night and  went for a beer with her boyfriend and we talked about the art market – he was an interesting and good bloke. In the morning I talked to Hazel about her hair colour while I watched her put her face on in the bathroom mirror; he dropped us off outside the Chelsea fire station on the King's Road. And she confided in me, "I'm going to ditch him," which shocked me. And I felt as though in one boozy night, I'd experienced the beginning, middle and end of their love affair! And thus the love affair between Margret and Günther seems almost like a real memory to me.