After reading the Turkish author Elif Shafak's The Silencing of Writers in Turkey (The New Yorker 10 December 2016), I was hit by a tidal wave of indifference – Not because of Shafak's article, but because of my growing frustration with Journalists! Who gives a flying fuck about the bloody journalists, especially the tabloid scumbags, lock'em all up; I'm sick of hearing about kim kardashian's oily arse and celebs' nip slips, underboobs and toned beach bodies!
I was surprised however that Shafak opened her article by quoting the writer Arthur Koestler, "If power corrupts, the reverse is also true: persecution corrupts the victim, though perhaps in subtler and more tragic ways," mainly because Koestler was a corrupt, misogynistic, predatorial git who, allegedly, sexually assaulted Jill Craigie and many other women. Craigie was partly responsible for the removal of Koestler's bust from Edinburgh University in 1998.
Having got that off of my chest, I've got to say that Elif Shafak writes a very good article.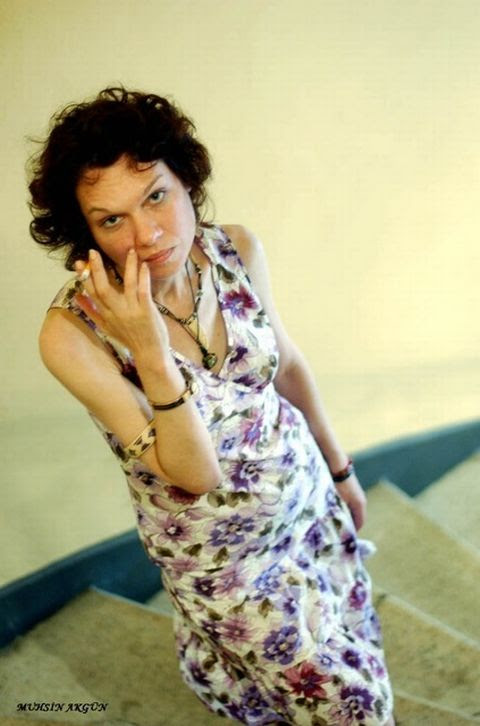 Aslı Erdoğan (no relation to Recep Tayyip Erdoğan) is a prize-winning Turkish writer and human rights activist. Imprisoned August 2016, released on probation 29 December 2016 – image courtesy Muhsin Akgun [awaiting reply]
Turkey is now the World Leader for imprisoned journalists. Aslı Erdoğan was just one of approximately 140 Turkish journalists who are said to be in prison as of 1st December 2016. However, following on from Shafak's Koestler quote, that number (140) pales into insignificance compared to the ticking time bomb that is strapped to the back of the elephant in the room, which is: the Islamification and dumbing down of Turkey's education system, which in the future, WILL subjugate and imprison millions of Turkish people in ignorance and fear.
Freedom of speech isn't just for the Turkish Journos and MSM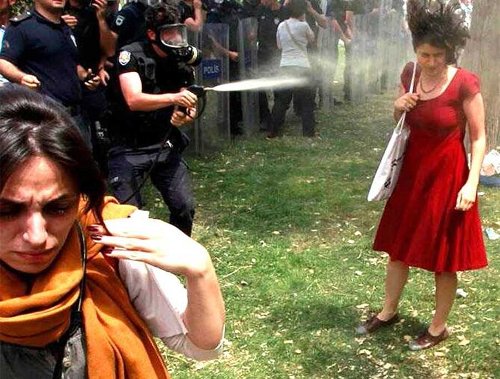 The Iconic "Lady in Red" Taksim Square, Gezi Park Protests 2013
We could all see this coming though, couldn't we? It is now about three years since Recep Tayyip Erdoğan, the President of Turkey and head of the Justice and Development Party (AKP), got away with calling the Gezi Park protesters[1] ayyaş (alcoholics) and çapulcu[2]. What has happened to those protesters today (February 2017)? Did they run out of steam, get disillusioned or were they suppressed? Ordinary people must have the right to express their feelings, without being called alcoholics and looters and worse, water cannoned and tear gassed – freedom of speech isn't just for the Journos and mainstream media. Freedom of speech is for The People.
I believe the people of Turkey are being suppressed and brainwashed and it's producing a silent and ignorant generation. And BTW Journalists are not Terrorists!
Notes
The Gezi Park protests (27 May 2013 – 20 August 2013) were about: freedom of the press, of expression, right to assembly, the government's encroachment on Turkey's secularism, environmental issues, and government corruption. The protests spread throughout Turkey.
Çapulcu [Eng pron. chapulju] is a looter, a pillager and a plunderer! The then Turkish Prime Minister Recep Tayyip Erdoğan used the term to describe the 2013 Gezi Park protesters. The Turkish protesters adopted the term, verbified it (Chapulling) and changed it's meaning to "fight for your rights." A chapulcu is a protester!