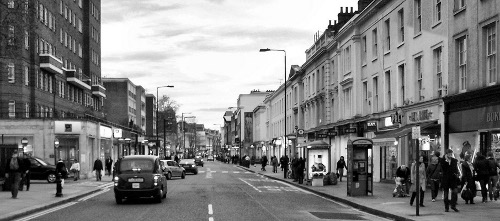 Walking Down the King's Road, Chelsea, London in the 1970s
This is a blog post in progress, which means I will be adding in extra content!
Hey @LesleyBell55 – how many times did we walk down the King's Road, Chelsea? I came across an evocative gallery by Klaus Hiltscher entitled, 1976 – London – In a hot and dry August 1976 – Take a gander.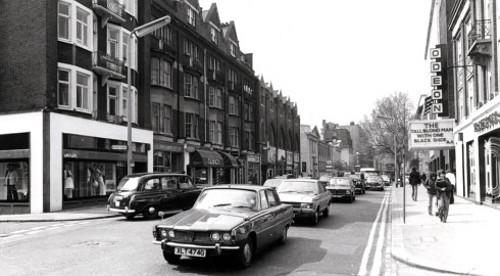 And then I stumbled upon this absolute gem, King's Road Blues part two By Dave Walker, oh-my-god, it makes me so nostalgic.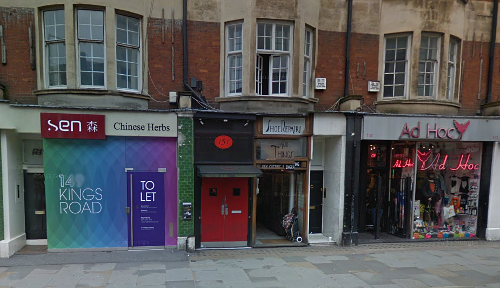 151 Ricci Burns – Looking Very Tatty via Google Streetmap
Saturday was always the best day to walk down the King's Road to Sloan Square underground station because it was so unbelievably colourful and frenetic. I was often the last one out of Ricci's (it's now a nightclub called '151'), I'd lock-up and then poke my head into Quincy Jones next door (Sen, Chinese Herbs. Now L'Eto café), giving the boys a metaphorical 'Fuck Off' as they still had another four hours of work. I'd cross over the road and go into the Trafalgar (pub) to see if Natasha, one of our models, was stripping; maybe I'd have a grapefruit juice and slimline tonic – not very rock and roll!
As you look at 151 King's Road, to the right (West) is Chelsea Manor Street, home of the fabulous 'Bow Tie,' a traditional greasy spoon café. It was here one weekday morning that the controversial Lord Longford watched me, in what seemed to be horror, munch my way through a massive bacon, egg and grease sandwich. He sat opposite me and asked me questions on the Berkshire countryside, while a thin film of white fat solidified on his cooling tea.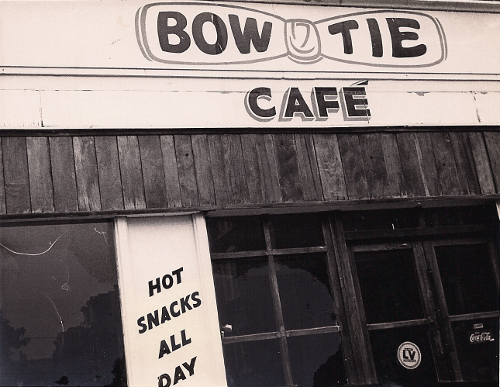 Bow Tie cafe 1977 Chelsea Manor street
To the left (East) of Ricci's is Flood Street, then home to Mrs Margaret Thatcher (number 19)! About halfway down are the Rossetti Studios, built in around 1894, they are absolutely beautiful inside. I worked there in 1975 with the enigmatic and enthusiastic fashion photographer Barney Bosshart (3 Rossetti Studios), very enjoyable.
Sometimes I'd walk straight down to the Picasso Café (127, now called Black & Blue) and have a cappuccino and a poached egg on toast, sit outside and watch the pretty young things walk past, hoping today would be my lucky day. Behind me, some mad witch of a waitress was looking busy and shouting CHINO – It took me ages to realize that she was ordering coffee and not calling for an overworked menial (when I was a junior I identified with this elusive, never to be seen, Chino)!
The Picasso was my Café de Flore (172 Boulevard Saint-Germain, Paris), a little haven, where plain buttered toast and a plastic cup of tea, first thing in the morning, seemed as sophisticated to me as blood orange pressée fraîche and the Sunday Times!
I'd usually walk down (towards Sloan Square) on the right-hand, south side of the road! Passing the Chelsea Potter on the corner of Radnor Walk (drinking hole of Adel Rootstein's staff – Adel Rootstein 1930-1992) – but I always felt that the Potter was a bit too smart for me. On Wednesday 13th June 1973, Oliver and I walked around to 52 Radnor Walk (of Quorum, Alice Pollock, Ossie Clark and Celia Birtwell fame), to talk to someone about a fashion show (I think), they were out! It was lunchtime, so on the way back, we called in at the Chelsea Potter and had an ice-cold glass of white wine. I think that was the only time I went in – although I do seem remember a late night foray after work one night!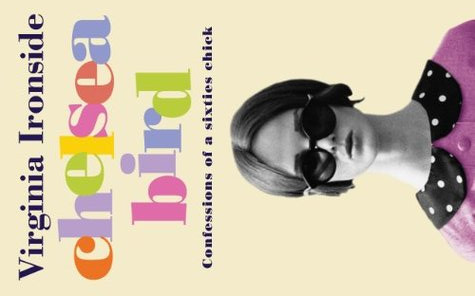 Chelsea Bird by Virginia Ironside (1964)
I like the fact that The Chelsea Potter appears in Virginia Ironside's book 'Chelsea Bird' (confessions of a sixties chick) – it's called 'The Chelsea Weaver' it was obviously the 'In' place in the 1960s too.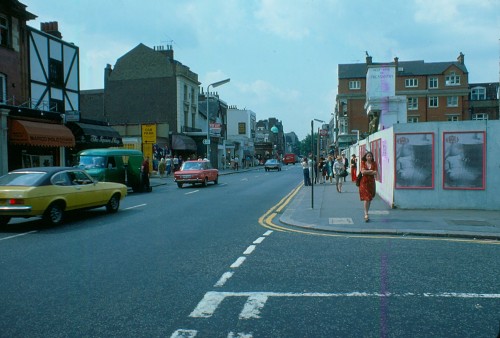 The Pheasantry Arch – Corner of Markham Street 1976 by Klaus Hiltscher
The Pheasantry (North side at 152) was a hideous Georgian mansion built in 1769. The whole time I was at Ricci's, and beyond, it was in a state of dilapidated limbo and redevelopment from about 1971 – 1981. Basically, 'they' wanted to demolish it, and I frankly was indifferent – I think that only the façade remains the same today! It is now a Pizza Express!
It used to be a 'posh' members only club and then apartments/flats, and it's where Germain Greer wrote 'The Female Eunuch' – an important feminist publication at the time.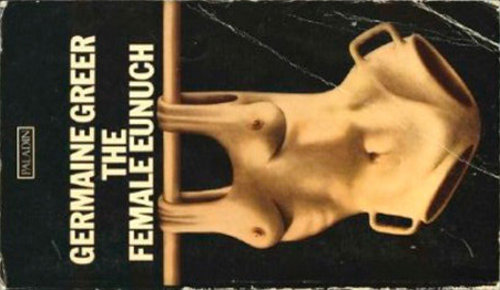 The Female Eunuch (Germaine Greer published 1970)
The Pheasantry is also a major location in The Party's Over (1963) – well worth a look! @SlashHairNet

— Liz Eggleston (@MissPeelpants) March 24, 2016

Yeah, The Pheasantry was the artist's studio (I think, I'm sure I'm right) in The Party's Over. I saw it in the very late 1970s at the Electric Cinema in Notting Hill; actually, I thought it was a pretty boring film at the time – I'd probably love the nostalgic Chelsea scenes and crap acting these days!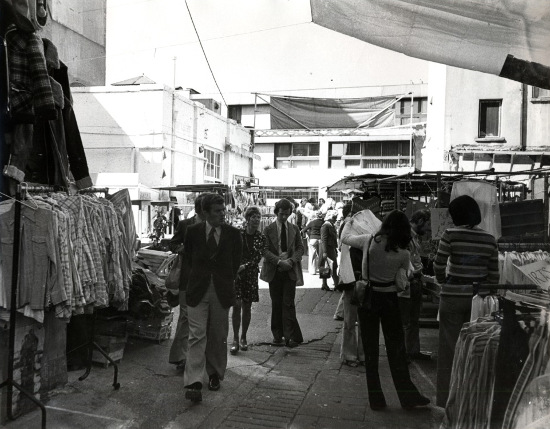 The slightly tatty Saturday market – Photo: via John Bignell, thank you Dave Walker: Royal Borough of Kensington and Chelsea, Bignell's People
On the South side of the King's Road opposite The Pheasantry was the Saturday Market, during the week it was a car park (you can see the yellow sign in The Pheasantry Arch photo by Klaus Hiltscher. It's now the entrance to M&S Car Park). I knew one of the Saturday traders, he was just like Adam Faith in Budgie – he sold jeans. The King's Road Saturday Market closed in about 1976.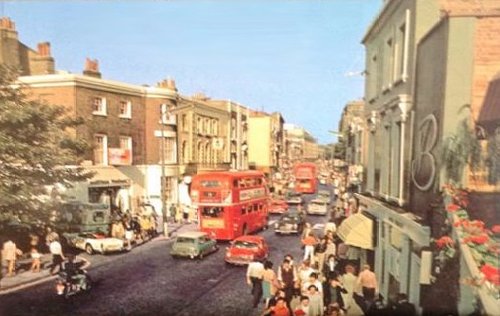 The Markham Pharmacy
The Markham Pharmacy (on the North side at 138A) is on the corner of Markham Square. It's now a cafe, of course, but at it's fashionable hight it was Mary Quant's boutique, 'Bazaar' (1955 – 1969). An interesting website that talks about Bazaar: Mary Quant, the Miniskirt and the Chelsea Palace on the King's Road. I used to buy copious amounts of Paco Rabanne eau de toilette from the Markham Pharmacy – what a stink!
Next door was the Markham Arms (hidden by the bus in the photo. Now Santander bank at 138), another pub I never went in! Here is another readable website with a better picture: The King's Road, Chelsea from Swinging London to Punk – remember that ice-cream van?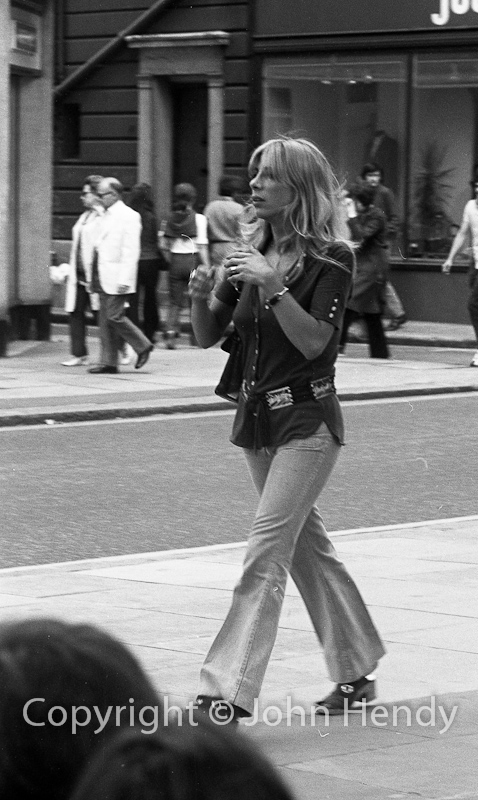 Ivana (1971 – before my time) walking by the Chelsea Drug Store
Well spotted Lesley! Ivana was Head Stylist at Ricci Burns, this photo, taken by the street fashion photographer John Hendy who often stood on the corner of Royal Avenue (the sun behind him) next to the Chelsea Drug Store (Now Maccy Ds). I always loved the look of the Chelsea Drug Store (designed after Le Drugstore, Boulevard Saint-Germain), I bought a pair of cheap Loons from there, they were crap – it was a good place to sit and watch to world go by.
A fascinating read: Alex in the Chelsea Drug Store, analyses stills from Stanley Kubrick's film A Clockwork Orange (1972 UK).
I'd be disappointed if I didn't see a skinny old man dressed as Tarzan (in only a loin cloth) KP nuts tucked into his thong-like belt; he'd beat his bare chest and yodel for his mate, sun or rain he rarely let me down.
Interesting article by Paul Gorman: David Parkinson photography retrospective
Happy days.