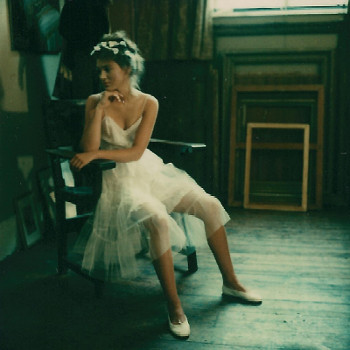 Photographer: Rod Delroy. Model: Kate Dowson. Hair: Ian Robson.
Fashion: Way In at Harrods. Friday 7 August 1981.
A Scanned Polaroid Photograph from my collection.
I only worked with the wonderful fashion photographer Rod Delroy about a dozen times. First time was in 1976 for The Evening Standard – funnily enough the last time was in 1981 also for an editorial in The Evening Standard.
A memorable session with Rod was a promotional shoot for Way In – Way In was an in-store fashion boutique/department at Harrods.
I suppose, if I remember correctly, the session was our attempt to pay homage to, and add some sophistication and change to the ever dwindling New Romantics fashion scene, which by August 1981 was getting past its best – Spandau Ballet meets Edgar Degas!
I've a strong feeling that Delightful Delroy has pegged out – if you know what has happened to the fashion photographer Rod Delroy, Please Let Me Know