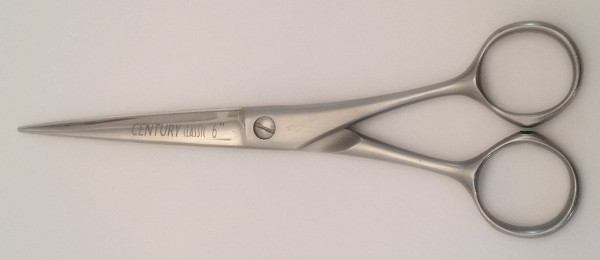 My current hair cutting shears: Century Classic, Tondeo, made in Solingen, Germany 6″ (68mm blade) (1998-ish)
After over forty years of hairdressing my hair cutting shears have become a part of my hand. They're as much a prosthetic, two razor-sharp fingers, as they are a hand tool. I love that I even get some sensation of touch; when I cut hair I can feel them cutting and the hair's texture.
As was the tradition when I was a Junior (1973), my first pair of shears were given to me by my stylist, Robert Lobetta; they were engraved with a salon's name: Andre Bernard. The shears were five and a half inches, blunt and pitted with the corrosion that is so typical of badly maintained scissors. I either gave them back to Robert or chucked them away, however, I have a feeling that he may have actually asked for them back.
Robert gave me another pair that were equally as bad, this time engraved with the name Artisan. So I dumped them and took myself off to Ogee's on the corner of Shaftesbury Avenue and Earlham Street to buy a brand new pair of hair cutting shears.
Such was my ego I didn't want to look like a n00bie junior buying his first pair of hair cutting shears. I confidently strode up to the counter and pointed at a pair almost exactly the same as the Artisan shears. "Can I have a gander at those," I said, and she handed them over. I cut the hairs off of the back of my hand like I would a client's neck fluff, and showing off, I span them on my finger like a cowboy would his .45 Colt pistol, then I slapped them down on the counter saying, "I'll take 'em." What a douchebag I was. They turned out to be a pretty average shyte pair.
I don't know if you've ever thrown a knife, but I spent the entire summer holidays when I was thirteen teaching myself how to throw my Scout sheath knife. Basically, what you do is: hold the blade of the knife between fingers and thumb with the spine of the knife towards the palm of your hand, and the handle pointing away from you and towards the target. Keep fingers and palm away from the point and the sharpened edge. Cock your wrist sideways towards your forearm, and throw the knife almost like a dart. The knife will rotate, cartwheel like, and hopefully the knife point will stick in!
The point of the matter being rotation. Spin any hand tool and you'll soon discover its balance and sometimes its purpose of use. A balanced pair of shears will feel good in the hand.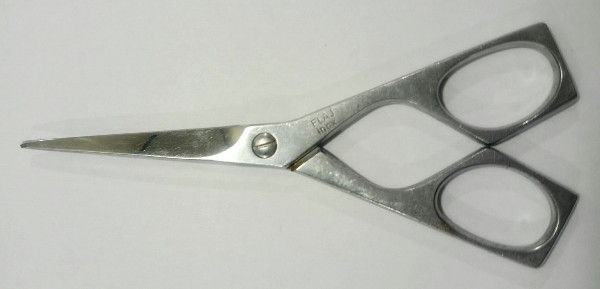 Concorde, FLAJ (inox stainless steel) 5.5″ (60mm blade) (1976)
Never buy a pair of shears because of what they look like. My grandfather used to say, "A bad workman always blames his tools." Well I surely cussed those little fuckers.
I hold no sentimentality or affection for my shears, I usually give them away when I've finished with them. These were given to a friend who uses them to trim her fringe very occasionally – I was glad to see the back of them.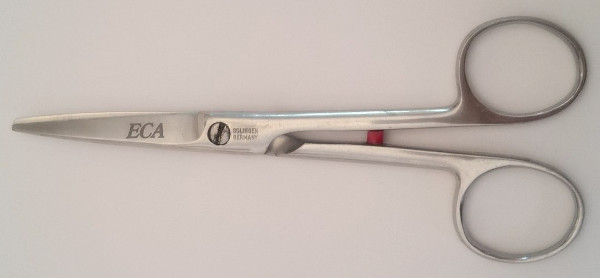 ECA, made in Solingen, Germany (rostfrei stainless steel) 5.5″ (50mm blade) (1980)
One of my favourite pairs of shears even though they were the only pair to really bite me – they cut a nice big V on the base of my index finger. Most hairdressers cut themselves with a new pair of shears at least once. I saw Ricci Burns slice through his knuckle to the bone, he got a trip to hospital and six stitches for his troubles – well, we thought it was funny at the time!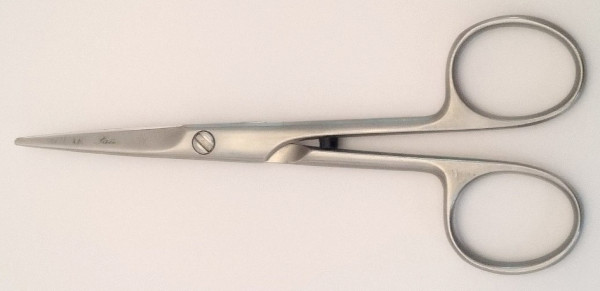 Jaguar satin, Easy Rand Rocket, made in Solingen, Germany (ice tempered stainless steel) 5″ (40mm blade) (1990-ish)
These were the only shears that I've had professionally sharpened – they fucked them up for me by grinding too much off of the blade. I usually sharpen my shears myself on my great-grandfather's fine whetstone – it's getting a little worn after about a hundred years.
A regular rub on the whetstone, a wipe with a thick chamois and a few drops of clear machine oil and my old hair cutting shears are back up like new again.
My most magical and memorable scissor moment wasn't a celebrity encounter, and they weren't even my scissors, it was when I cut my son's cord with the midwife's umbilical scissors – what sensational and emotional feeling.