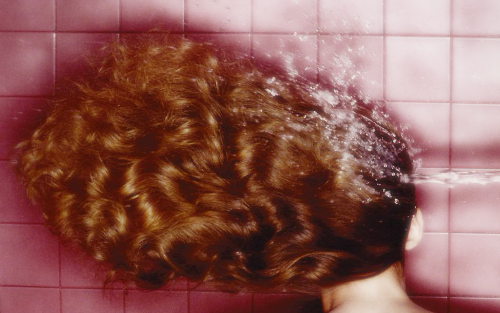 Styling products, chemical processing, environmental pollutants, the sun and heat (typically, blow-drying and straighteners) and hair ties (like those fucking little ponytail bands with a metal joint) are the main factors in damaged hair. Damaged hair is normally dull hair. Healthy hair is normally shiny hair. Hair becomes dull when the outside surface (the cuticle) is rough. Light does not reflect well off a rough surface, light reflects off a smooth surface!
The first course of action to get shiny hair is: review your shampooing and conditioning method. The most common cause for dull hair is product overload. So start off by shampooing your hair with a clarifying, anti-residue shampoo, which should remove up to 70% of the residue left from hair products. Depending on how often and how much product you use, use the anti-residue shampoo once every two to three weeks. You will also need to use a compatible detangling conditioner for best results, as anti-residue shampoos can cause the hair to tangle. I recommend you use Urtekram shampoo for every day – if you can get it!
Of course there are loads of brilliant, shine-enhancing glossing sprays and various shine boosting serums, but there's also an awesome old fashioned remedy for shiny hair: After shampooing and before conditioning, use a citric acid rinse. Prepare the rinse in a plastic measuring jug by completely dissolving 1/2 (half) teaspoonful of citric acid crystals into 200ml of boiling water. Add 300ml of cold water (you've now got 500ml 'warm' citric acid solution) – give it a stir. You could use an organic cider vinegar rinse instead if you want! carefully pour the citric acid rinse over your hair, avoid getting it in the eyes, leave it on for one minute, rinse off well with cool/ cold water and then condition as normal with an harmonious hydrating conditioner – rinse off again with cool water. Super Shiny Hair – simple.
A Note About The Sun And Your Hair
The sun can damage your hair (especially if it has been coloured) and cause colour fade. Hair colouring is expensive; so my top tip is: if you colour your hair, always wear a hat and/or use a UV protection product in the sun. You must protect damaged hair from the sun.
If you think you have a problem with your hair, the only way to determine its true condition and identify the proper course of treatment that's right for you and your hair, is to talk with your hairdresser. I can help you to achieve and maintain, healthy, beautiful and shiny hair that will grow stronger and 'live' longer. I can also teach you how to safely use the different styling tools, like straighteners – that can potentially wreck your hair, so you can recreate a professional looking finish without buggering it up.