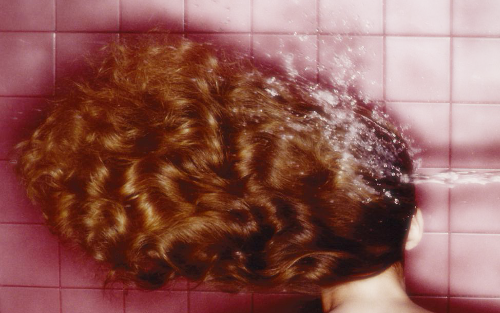 Model: Anik, Photographer: Chris Roberts 1981, Hair: Ian Robson. London – Willie Christie's Studio
This blog post, 1970s Shampoo Nightmares, has been requested by my friends on #HairHour – 10 Feb 2016. They thought it "would make a very interesting read!" I'm not too sure about that, you'd better judge for yourself!
Without meaning this to be a biography of my early years as a hairdresser, or a fucking history lesson: I've got to say this starts in the period between 1970 and 1980, maybe it was when Jimi Hendrix died in September 1970, or when Andre Mizelas (of Andre Bernard) got shot in November 1970, or maybe when Vidal Sassoon created his line of hair-care products in the early 1970s? The thing is, there was an imperceptible wind of change gently blowing – just like there is today, and it's difficult for me to put a date to it, let's say the early 1970s.
It was a time when most, if not all, London salons had their own line of self branded hair-care products for sale – I'm talking mainly shampoos and conditioners. They were formulated by so called, cosmetic chemists in small laboratories come kitchen sink factories. The name David Gold rings a bell, I don't know why – the smell of coconut comes to mind when I think of the name! Salons bought their shampoos and conditioners by the gallon (4.5 litres) from the labs who personalised it (branded it) with ridiculous flavours and the salon's name. These shampoos and conditioners were absolute crap – or were they? If you washed somewhere between fifteen and fifty heads of hair a day, six days a week, for three months solid, believe me, it really was absolute crap!
I say ridiculous flavours: lemon for greasy hair was typical and obvious, pineapple and orange were slightly less obvious and sickly. pine for normal hair, didn't smell toilety, but of the woods. almond and coconut for dry and damaged hair. And the colours of course were pretty vivid: yellow, orange, green, pink and spunk white! As a creative junior I liked to mix them and create 'cocktails' – my favourite being a pina colada: 3 measures of pineapple, a dash of pine and lemon, 1 measure of coconut – the end result being clean hair, a happy mixologist and an oblivious client!
A junior's morning job would be to: decant the shampoos and conditioners into the various 'clean' 2 litre glass carafes with cork stoppers, that sat behind the backwash like grand apothecary jars.
After a flutter with Lamaur (my favourite: apple pectin shampoo) and Wella, Ricci Burns (where I worked) ditched the laboratory and went down the innovative product road and embraced Redken products (first UK salon to do so); on the other hand, Vidal Sassoon was heavily into self branded products and I think they were the first to go into major production (with Helen of Troy Corporation), selling in the USA and Europe in 1980. This was the beginning of celebrity hairdresser branded hair-care and beauty products.
Today there are a plethora manufactured by 'global' beauty companies like: Procter & Gamble (Vidal Sassoon), L'Oréal (Jean-Louis David), Estée Lauder (Bobbi Brown – Makeup Artist) and Unilever (Tigi for hair salons, Toni & Guy)…
And you may ask: are salon (professional) products better than High Street (retail) products? Sadly, No, they're not better! But I know it's what hairdressers, salons, have always wanted. Unfortunately, expensive, celebrity/professional shampoos aren't better – £3.99 or £39.99 there's not a lot of difference; you don't get what you pay for!
The trouble is, there's such a lot of bollocks talked about hairdressing products; in the end it's all about money, the bottom line, sales, turnover… I remember all the fuss caused by Wella in the mid-late 1970s, when they removed Lifetex conditioner from their professional range and allowed Boots to sell it at half the fucking price that a salon could buy it for in the first place (supermarket purchasing power)! (Get your arse down to the supermarket, but talk with your stylist first!)
There have always been well-known 'celebrity' hairdressers: Marcel Grateau (Marcel wave), Antoine (original short bob cut), Raymond Bessone (Mr. Teasy-Weasy), Andre Bernard (royal hairdresser)… Vidal Sassoon… However, it is today's branded High Street beauty products, celebrity culture and consumerism that have changed the hairdressing and fashion scene for the worst – maybe those carafes of shampoo weren't so bad after all?